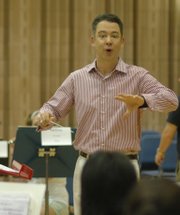 Scott Weiss was content with his job as associate director of bands and associate music professor at Indiana University's Jacobs School of Music.
He had spent two years there after coming from Lamar University in Beaumont, Texas.
But earlier this year, Kansas University came calling on the 39-year-old, eventually offering him a chance to succeed his close friend John Lynch as KU's director of bands.
"Given where I was sitting at Indiana, as associate director of bands at one of the top music schools in the world, I wouldn't have left there if it wasn't for what I consider a career job," Weiss said.
Now he's ready to begin his first year at KU, where his responsibilities include overseeing all band programs, including athletic bands and the graduate wind-conducting program.
He says he hopes to continue the work of Lynch, who left to become director of bands at the University of Georgia.
"No major changes are in store. The KU band program has a tremendous tradition of excellence," Weiss said.
Challenges
He has a healthy respect for the KU band program, including faculty members David Clemmer and Tom Stidham. He likens his role to jumping onto a moving train.
But the job, like his others, doesn't come without the year-to-year challenge of recruiting, which he says KU has done well.
"You can't ever rest on your laurels in terms of recruiting. There are lots of great schools of music out there," Weiss said.
He wasn't heavily involved in recruiting at Indiana, but he says he can rely on his experience during his days at Beaumont and earlier as a high school band director.
"It's a very multifaceted thing. If you are going to be successful, you've got to be approaching it from a number of different levels," he said.
Often students who want to major in music in college can't rely on their parents to guide them about what schools to attend, he said.
"One of the first things that anybody who's going to recruit incoming students has to do is they need to get to know the high school band directors," Weiss said. He spent a week in Lawrence this summer as part of the Midwestern Music Camps, and Weiss plans to strengthen his network in Kansas and Missouri.
He also will be music director of the Kansas City Youth Wind Symphony, a group of advanced high school wind and percussion students in the area, which meets one night a week during the winter and spring.
Tom Stidham, associate director of bands at KU, said he and Weiss share philosophies on recruiting heavily in areas close to home.
"I think we'd get a whole lot more band for our buck if we would concentrate first on the area talent," Stidham said.
When Weiss is leading rehearsals, he hopes to bring his own style to the conductor's podium and to the department.
"The physical aspect is an important part, but you are also a leader of people and a motivator," he said.
And his rehearsals match his leadership style.
"I'm very collaborative. This is about us, not me," Weiss said. "I get ensembles to buy into understanding a group mindset so that we are all working towards a common goal."
As far as musical selection, for the wind ensemble he's looking at music written 100 years ago and pieces written this year, and everything in between.
'A well-rounded approach'
KU music leaders have said Weiss appears to be a good fit to take over the band program.
They also have lauded him for more than his musical abilities.
"He brings outstanding academic credentials and exceptional professional experience to the University of Kansas," said Larry Mallett, chairman of KU's Department of Music and Dance.
Stidham said Weiss also has a strong leadership background.
"He has a really good, well-rounded approach and attitude and knowledge about how a full band program should operate," Stidham said. "He's done marching band before, been involved in a wider aspect of running a band program, and he seems to be very cooperative and open and interested in what we're doing, where we've been and where we're going."
Copyright 2018 The Lawrence Journal-World. All rights reserved. This material may not be published, broadcast, rewritten or redistributed. We strive to uphold our values for every story published.