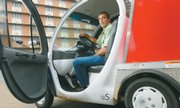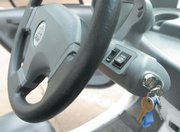 At Kansas University - like most everywhere else - there's a fair amount of head-scratching going on about rising fuel prices.
One department, though, worries a little less than the others. KU's Networking and Telecommunications Services Department became the university's first department to buy a fully electric car in an attempt to battle skyrocketing gasoline prices.
"So far, it is going great," said Anna Hines, associate director for the department.
The department bought the vehicle in the spring, and one of its maintenance technicians uses it to travel from campus building to campus building.
"You can't beat it for people movers and for small needs," Hines said of the Global Electric Motorcar that the department bought for approximately $10,000.
The lightweight vehicle - the department chains it down each night so students aren't tempted to pick it up and carry it away - has two seats and a built-in tool box.
Hines has been showing off the vehicle elsewhere on campus, such as the police and parking departments, who might have some uses for similar electric cars.
"I think there is plenty of interest on campus about it," Hines said. "I think everybody is still wondering how it will get around on ice and snow."
Hines said that could be a problem, but for the limited amount of time there's ice and snow on the roads, she said her department could use one of the traditional gasoline vehicles it still has.
Lindy Eakin, the university's vice provost for administration and finance, is watching the electric car experiment with interest. Eakin is the KU employee who sees most of the university's fuel bills.
KU buys approximately 140,000 gallons of gasoline per year for its motor pool, which provides gasoline to all the maintenance vehicles, and also sells gasoline to the various KU departments that have vehicles.
"We're starting to hear more interest in alternative fuel vehicles," Eakin said.
That's because fuel prices are beginning to cut into the budgets of several departments, meaning they have to cut back on other things in order to pay the fuel bill.
Thus far, Eakin said the rising fuel prices haven't created any budget crises for departments.
"We haven't heard of serious problems at the administrative level yet," Eakin said. "We haven't heard the police say, 'We need a budget supplement or else we're going to have to cut down on some of our patrols.'"
But that day could come. For every dollar that fuel prices increase, KU's cost go up by $140,000 per year.
That's significant, but right now it is dwarfed by the increases KU is paying for electricity and natural gas to heat and cool its buildings, Eakin said.
"We've seen a significant impact on our utility budget," Eakin said.
KU's annual electric bill has grown by about $400,000 over the last three years. The natural gas bill has grown by about $1 million over that same time period, Eakin said.
Eakin said KU already has participated in an energy audit to help reduce energy usage. On the fuel side, KU employees are being reminded to be wise in their vehicle usage.
Steve Green, associate director of facilities for KU, said crews are reminded to plan ahead so that they have all the tools and materials needed in their trucks to cut down on trips from a job site to the shop.
But Green also said there's lots of driving his department workers do that is unavoidable because more and more of the Facilities Department's shops are on West Campus, while most of the work remains on the main campus.
"That means at a time when we should be saving fuel, we're forced to do more driving," Green said.
Copyright 2018 The Lawrence Journal-World. All rights reserved. This material may not be published, broadcast, rewritten or redistributed. We strive to uphold our values for every story published.