Injury update
The news was a little better for injured cornerback Kendrick Harper than what was originally feared.
Kansas University coach Mark Mangino said there were questions as to whether Harper would miss the season after suffering an undisclosed injury on the first day of practice. The diagnosis now is four to six weeks, which could mean Harper may return around the Florida International game on Sept. 22 or the Kansas State game on Oct. 6.
"We're kind of hoping he'll be ready for conference play," Mangino said. "If it's sooner, great. But we think that by conference play he'll be ready for sure."
Injured defensive tackle Todd Haselhorst is trying to be ready around the end of the month, which may mean he won't miss any games.
New gear
Kansas players posed for pictures and talked to the press donning the new uniforms with Trajan-font letters and numbers.
"Oh I like 'em," cornerback Aqib Talib said. "I think they're a lot better than the old ones. I like the kind of curvy, new numbers."
Added running back Jake Sharp: "If the uniforms would help us play better, that'd be awesome. But I don't think they do."
Photo Gallery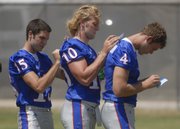 KU Media Day 2007
No red for them
There appears to be five early candidates to skip a red shirt and play as true freshmen: wide receivers Dezmon Briscoe and Johnathan Wilson, cornerback Chris Harris, defensive tackle Richard Johnson and running back Carmon Boyd-Anderson.
Briscoe and Wilson - at least together - are intriguing possibilities, particularly because of the depth they'd instantly apply to a receiver fleet already featuring Marcus Henry, Dexton Fields, Marcus Herford and Raymond Brown.
"There's a good chance both will play this year," Mangino said of Briscoe and Wilson, both 6-foot-3. "They're that talented."
The 6-foot Harris may have an increased chance due to the injury to Harper. Mangino mentioned Harris, Anthony Webb and Phillip Strozier as candidates to start the season opener at cornerback opposite Talib.
Well put
"He's a feisty guy, he's a fast learner," Mangino said of Harris. "He has all the good physical attributes you want in a corner. He's not a real big guy, but he plays big."
KU sophomore safety Darrell Stuckey was asked a broad question Tuesday: What will it take for Kansas to be consistent contenders?
"We're a very good team, but good is the enemy of great," Stuckey said. "For us to be a great team, we have to consistently go in and have a goal and be on the same page and not have the links on the team that are down and don't want to perform to the best of their ability because they're tired or other excuses.
"To come together and jell and practice and work hard for the person next to you and not for yourself, is when we'll be a great team consistently. That's what we're going to right now. Very rapidly."
Quote of the day
"My brother said I look like Matthew McConaughey" - Quarterback Kerry Meier, who's sporting a blonde mustache in his media-guide mug shot.
Copyright 2018 The Lawrence Journal-World. All rights reserved. This material may not be published, broadcast, rewritten or redistributed. We strive to uphold our values for every story published.