Boston — It was a day for rejoicing in Beantown, not just for Boston Celtics fans, but the returning players as well.
"This is a tremendous day," Celtics veteran and former Kansas University forward Paul Pierce said after Kevin Garnett was acquired in a trade with the Minnesota Timberwolves. "I feel like a rookie again."
The Celtics, who have 16 championships but have gone without one for more than two decades, obtained the former MVP and 10-time All-Star on Tuesday in a 7-for-1 deal - the NBA's biggest trade for one player.
Boston sent the Minnesota Timberwolves forwards Al Jefferson, Ryan Gomes and Gerald Green, guard Sebastian Telfair and center Theo Ratliff, two first-round draft picks and cash considerations. Besides Ratliff, 34, the other four are 24 or younger.
With Pierce and Ray Allen already on the roster, the Celtics have been transformed from a promising collection of youngsters who had the NBA's second-worst record last season into an instant contender in the mediocre Eastern Conference.
"This is probably my best opportunity at winning a ring," Garnett said. "It was a no-brainer."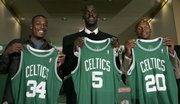 The Celtics won their last championship, the third with the original Big Three of Larry Bird, Kevin McHale and Robert Parish, in 1986. Two members of that club orchestrated Tuesday's blockbuster trade - Celtics executive director of basketball operations Danny Ainge and Timberwolves vice president of basketball operations McHale.
"These guys will never be the Big Three until they win" a championship, Ainge said of Pierce, Allen and Garnett.
Garnett signed a multi-year extension - Ainge wouldn't say how long. He had one year plus an option year remaining on his contract. He realized that he didn't fit in with Minnesota's strategy of rebuilding with youth and was amazed at all the activity to finalize the trade.
"It's like being in a Lamborghini doing 200 (mph) with your head stuck out the window," Garnett said. "It's been like a whirlwind the last 72 hours."
The Timberwolves get the Celtics' first-round pick in 2009, unless it is among the top three, and a return of Minnesota's conditional first-round draft pick obtained in January 2006 when they sent Ricky Davis to the Timberwolves for Wally Szczerbiak.
"I'm confident I made the right decision here, even though that it was a difficult one," said Wolves owner Glen Taylor. "It's like parting ways with friends. It hurts, but you have to get on with the journey."
Copyright 2017 The Lawrence Journal-World. All rights reserved. This material may not be published, broadcast, rewritten or redistributed. We strive to uphold our values for every story published.