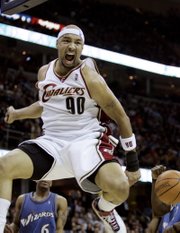 Cleveland — Once he dropped in his sixth straight jumper, Drew Gooden spun around and looked over at Cleveland's bench. Then, he placed his hands in front of his face and wiggled his fingers.
"That's called making it rain," Gooden said.
On Wednesday night, Gooden poured it on for the Cavaliers.
Usually a member of Cleveland's supporting cast, Gooden co-starred with LeBron James by scoring 19 of his 24 points in the first half in leading the Cavaliers to a 109-102 victory over the Washington Wizards and a 2-0 lead in their first-round series.
James, playing on a tender left ankle, scored 27 points with eight rebounds and seven assists. He also helped the Cavaliers hold off a furious rally by the Wizards, who clawed within three points in the final minute.
But it was Gooden's first-half flurry - he scored 15 points in just over five minutes - that energized the Cavs and pushed them to the commanding advantage in the best-of-seven series, which moves to Washington for Game 3 on Saturday.
Gooden normally doesn't have many offensive plays called for him by Cleveland coach Mike Brown, who may have to rethink that philosophy after the forward came through on a night when James clearly was not himself.
Gooden's performance came exactly one year after he had 24 points and 16 rebounds in Game 2 of the Cavs' first-round series against the Wizards. Cleveland lost that game before winning the series in six.
But the 6-foot-10 Gooden, who is growing out an 1980s-style ducktail hairdo, helped make sure recent history wouldn't be repeated.
"He held down the fort for them in the first half," Wizards forward Jarvis Hayes said. "And at the end LeBron did."
The Wizards made it interesting in the final minute. They kept pecking away at Cleveland's lead and capitalized on a few missed free throws and an ill-advised pass by Eric Snow to close within 105-102 on a three-pointer by Hayes with 18 seconds left.
Larry Hughes then made four free throws as Cleveland closed it out.
Copyright 2018 The Associated Press. All rights reserved. This material may not be published, broadcast, rewritten or redistributed. We strive to uphold our values for every story published.