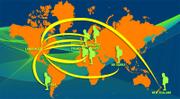 A handful of Lawrence public school students aren't actually educated in Lawrence.
In fact, the students don't even live in the United States. They're in far-off places such as Sri Lanka, Germany, New Zealand and Chile.
The students are away from Lawrence for a variety of reasons, but while they're gone, they keep pace with their peers through Lawrence Virtual School.
"A lot of our families : their parents are teachers or professors, so they go out on sabbatical," said Jana Lloyd, assistant principal at the virtual school. "One family is a missionary family. They're all still residents of Kansas, but they're gone. We had one student last year that had a sick grandparent, so they went with the parents to the home country."
And the students stay out of the country for varying amounts of time - some for only a semester and some for an entire school year. Regardless of where they travel, Lawrence Virtual School students can receive much of the same education they would at home.
"I mean, you get these chances, you might as well take them," Lloyd said.
While the virtual school is a convenient way to stay current with Lawrence classes - the curriculum is accessed through a computer program on the Internet - students sometimes face challenges.
"When we send curriculum over," Lloyd said, "we're not always sure it's going to arrive to our families. Even the Western-world countries, they go through the boxes - the customs officials - and if they see something they want, they take it."
The virtual school first began catering to Lawrence students who were out of the country last year, so school officials still are encountering bumps in the road.
"There's the issue of electricity," Lloyd said. "Sometimes, there are shortages of it in other countries, and our electrical systems aren't the same, either. That means a computer that plugs into the wall here might not fit an outlet somewhere else."
Copyright 2018 The Lawrence Journal-World. All rights reserved. This material may not be published, broadcast, rewritten or redistributed. We strive to uphold our values for every story published.