It's not quite like the Lawrence Virtual School has an identity crisis.
But the school and its 639 students don't have a mascot. Nor do students eat together in a gym-a-cafetorium.
And it's tough for them to know much about each other when many are scattered across Kansas taking courses via the Internet - or off traveling for a semester in Europe.
Looking to build the type of unity that you might find in a traditional school, Virtual School administrators have rolled out a tried-and-true concept: a high school newspaper.
"It's an aspect of taking virtual education and building more of a community within the virtual school system," Principal Gary Lewis said.
Like the school itself, the student paper is virtual.
There's no newsprint to hold, no ink to stain the fingers.
To read it, go to the Web at http://teachers.usd497.org/cgoolsby/index_files/September.pdf. There you'll find the first issue of the first volume of the newspaper.
Charles Goolsby, an English teacher who is the newspaper's sponsor, said he and Lewis discussed creating the online paper as a way to help unify the school.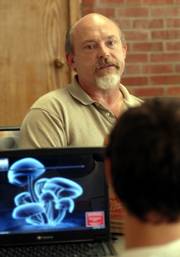 "We were trying to discuss ways where the school could be more like a regular school," Goolsby said.
By publishing on the Web they hope that, for example, a high school student living in Winfield could write a story showing virtual students elsewhere in the state that they have similar experiences.
The paper has four staff members this semester.
Christy Rude, who is from Winfield, wrote about the opening of the school year in her home city. She is now studying abroad in Greece and e-mails her stories to Goolsby.
Another staff member, Chloe Jones of Baldwin, wrote about the U.S. Open tennis championships in New York City.
"She did that because she was there. She was playing in the Junior Open and wanted to write about the pros," Goolsby said.
Students in newspaper class come up with their own stories, do their own interviews, write the stories and get a photo or artwork to go with the story.
The newspaper will come out monthly, but publication dates will vary depending on months with holidays, he said.
It's exciting for students to know their newspaper is available online for anyone to see, Goolsby said.
"For us, being a different kind of school, it gives an exposure to anybody, anywhere who wants to find out what the Lawrence Virtual School is about," Goolsby said.
There are 92 students in the high school program (who are counted in the enrollment numbers at Lawrence High School and Free State High School). Of those, 36 live in Lawrence; the remainder live in other parts of the state.
"Anything we can do to get our kids more involved in the school, to make the school a better experience for them, I think is a great thing to do," Goolsby said.
Copyright 2018 The Lawrence Journal-World. All rights reserved. This material may not be published, broadcast, rewritten or redistributed. We strive to uphold our values for every story published.