Lawrence's public schools gained about 300 students from last year - a nearly 3 percent increase to 10,303, an official state head count taken Thursday showed.
"We haven't seen growth like this in a number of years," Supt. Randy Weseman said. "It looks good for us, in terms of what we projected for budget."
The enrollment numbers still must be plugged into the school finance formula to determine the total local budget, he said.
But the district probably will get about $2.8 million more than last year's budget, based on preliminary calculations, he said.
Weseman said that could help the school board's efforts to gradually reduce the number of fees parents pay at the beginning of the school year.
"Any time you're experiencing growth, rather than declining enrollments, it's going to give you more options with your budget," he said.
Virtual increase
Though the numbers show Lawrence has 300 more students, most of them won't be found taking up space in classrooms.
The lion's share of the increase came from enrollment at the Lawrence Virtual School, which conducts classes via the Internet.
"That Virtual School has been a real asset to the overall enrollment," Weseman said. "But the greater good of the Virtual School is that it gives people more options."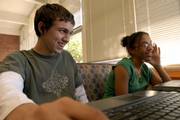 Students at the Virtual School, which includes those in the virtual programs at Lawrence High and Free State High, now account for 639, or 6.2 percent, of Lawrence's 10,303 students.
At the elementary level, the Virtual School's enrollment climbed by 193 students - nearly 75 percent - since last year, going from 259 students to 452 students.
The Virtual School also saw 40 more students in its seventh- and eighth-grade programs, bringing it to 100 students. That's a 66 percent jump from last year.
This year's virtual programs at the high schools include 54 students at LHS and 33 at Free State. Those students are counted in the regular enrollment figures for each of the high schools.
Weseman said he didn't have a breakdown of how many virtual students actually lived in Lawrence and how many were from outside the district.
Regardless, the numbers are rolled into the district's enrollment figures used when state aid is calculated, Weseman said.
"The charter from the state is that it's open to the state," he said. "We don't go out and actively recruit people, but they hear about it through word of mouth. It gains students by its own merits."
And some parents are choosing to send their children to the Virtual School rather than enroll in traditional elementary neighborhood schools, he said.
"I think we have to start thinking differently about what school looks like," he said. "It's a brave new world."
He said limits are put on the Virtual School's growth each year to make sure enrollment is handled smoothly.
Some increases
Six of the city's elementary schools saw enrollment increases, while nine saw numbers drop.
The largest increase was at Sunflower School in southwest Lawrence, which grew by 8.7 percent, or 38 students, from 435 to 473.
"That we had been watching. That was an area of growth," Weseman said.
Other increases of note:
¢ Enrollment at Deerfield School jumped by 6.6 percent, or 32 students, to 510. It continues to be the largest elementary school in the city.
¢ Langston Hughes School saw a 31-student increase, or 8.9 percent, giving it 376 students.
¢ Hillcrest School, which was at 435 students last year, increased its enrollment by 6.6 percent, or 29 students, to 464.
¢ Another increase was at Quail Run School, which picked up 15 students, a 3.7 percent increase, to 420.
¢ The largest percentage increase was at Cordley School, which saw a 12.4 percent jump of 24 students, taking its enrollment to 217.
Weseman said Cordley's increase probably was because of an English as a Second Language program that opened there this year.
Some declines
Of the nine elementary schools that lost students, the largest drop was at Pinckney, which fell by 22 students or 7.6 percent, to 264 students.
¢ Schwegler School's enrollment fell from 389 to 371, a drop of 18 students or 4.6 percent.
¢ Prairie Park went from 394 to 381 students, a loss of 13 students or 3.2 percent.
Enrollment declined at two of the junior high buildings:
¢ Central Junior High lost 6.7 percent, or 32 students, going from 475 to 443 students.
¢ And West Junior High lost 23 students, or 3.8 percent, going from 603 to 580 students.
Southwest Junior High saw its enrollment increase by four students, from 649 to 653, or a 0.6 percent increase. South Junior High stayed the same at 592 students.
High school
Lawrence saw a net gain in its high school students.
At Lawrence High School there was a 4 percent increase of 52 students, taking it from 1,292 to 1,344. That includes the 54 students enrolled in the virtual program.
At Free State, there was a drop of 20 students, or 1.6 percent, from last year, taking enrollment from 1,246 to 1,226. Free State's figures include 33 students enrolled through the Virtual School.
Copyright 2018 The Lawrence Journal-World. All rights reserved. This material may not be published, broadcast, rewritten or redistributed. We strive to uphold our values for every story published.