Chat about the Lawrence Virtual School with Gary Lewis
January 17, 2007
This chat has already taken place. Read the transcript below.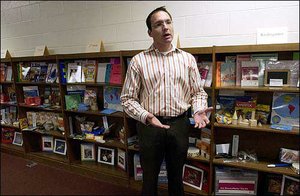 The Lawrence Virtual School has been growing by leaps and bounds. Gary Lewis, the principal, takes your questions about virtual schooling.
Moderator:
Hello everyone. Welcome to today's chat with Lawrence Virtual School principal Gary Lewis. We'll Go ahead and begin in just a moment.
Does a virtual school 6th grader follow the same curriculum and outcomes a 6th grader attending a Lawrence Public school follows?
Gary Lewis:
Lawrence Virtual School uses the K12 curriculum which is not the curriculum that the bricks and mortar schools use. We are expected to follow the same State standards and outcomes as any school in Kansas. A good way to think about this would be to think about how different districts/schools use different textbooks/resources to reach the same outcomes. We also place students at their level in language arts and math.
How does a student interact with his/her teacher? Do the teacher and student dialogue about lessons and topics?
Gary Lewis:
We will answer the first question you pose. Interaction with teachers depends on what grade level you are enrolled within our school. At the primary level, parents most often interact with the teachers. At the secondary level students directly interact with their teachers. We use a variety of technologies including on-line chat, email, phone conversations, Elluminate, and face to face to communicate and interact.
Gary Lewis:
As for your second question, dialogue concerning lessons and topics is essential to virtual student success.
How has using moodle enhanced the virtual school?
Gary Lewis:
Using moodle does not enhance the virtual school as we do not use it. We use Blackboard at the secondary level.
Does a teacher teach a multi-age class, or is the teacher responsible for just a specific grade level or subject area?
Gary Lewis:
Teachers work in multiage assignments ranging from K-5, 6-8 and 9-12 responsibilities. Secondary teachers are assigned based on subject areas and certifications.
Can a student who's enrolled in a private school (Montesori or catholic) Also be enrolled in your virtual school?
Gary Lewis:
Yes, we call this a dual enrollment. We have students taking partial course loads at a private school while taking courses with LVS. Students may be enrolled in one to six courses.
Moderator:
There has been some controversy in the past over LVS "recruiting" students from other parts of the state. How does LVS attract students from outside of Lawrence?
Gary Lewis:
There are 18 virtual schools in Kansas that allow enrollments from across the state. Virtual schools in Kansas provide excellent educational options for Kansas kids. LVS currently has students in 54 counties across the state. Success with these students increases the positive word of mouth advertisement. We also post information in the Lawrence Journal World. Our curriculum provider also shares K12 information with families across the country. www.lawrencevs.org is also a great place for families to find out more about LVS. Parent information sessions are scheduled frequently so that families can make educated choices. LVS also sponsors an annual Expo which will take place April 27th from 9 to 3 at the Lawrence Virtual School.
Moderator:
Is there a screening process for students who want to enroll?
Gary Lewis:
This is a very good question as virtual school is not an appropriate educational setting for every child. A student who does not have a committed and supportive adult concerned with providing them an exceptional education will not succeed in this environment. All students are required to take placement tests in math and language arts so that appropriate educational placement can be made. Before enrollment is approved, all paperwork must be submitted. Students who are more than two years behind grade level or require daily special education services may not do well in this environment. Appropriate educational placement is determined on a case by case basis.
Moderator:
So- what happens when you're dealing with a student who just DOESN'T want to go to school? Is LVS the answer?
Gary Lewis:
Unfortunately, a student who does not want to go to school, does not want to SCHOOL. We find that students who do not want to attend a bricks and mortar school also do not want to attend our school. A student who lacks motivation will likely not do well in our school.
Moderator:
What part does the parent play in a virtual education?
Gary Lewis:
Parents are key to the success of students in the virtual school. They are involved with their childrens education on a daily basis. This is the case for all students and parents, K-12. Parents deliver instruction one on one in the home with the assistance of assigned LVS staff members. Parents engage in discussions concerning student progress, special needs, curricular modifications and student improvement. Simply stated, parent involvment is not optional.
Moderator:
Alright. That's all the time we have today. Thanks to everyone who contributed questions to this chat and to you, Mr. Lewis, for answering them!
Gary Lewis:
Thank you for allowing me the time to respond to questions community members have regarding LVS as an educational option for Kansas kids. For more information please check our website at www.lawrencevs.org or call 785-832-5620.
In Quality Education,
Gary