When the Lawrence Virtual School opened in 2004, it was only the fourth such program in Kansas.
At that time, 165 students had traded a traditional school setting for an electronic classroom capable of operating on the Internet 24 hours a day.
And the demand for that online alternative has exploded. Next year, enrollment is expected to top 1,000 students.
"There's no doubt in my mind it will be the biggest school in the district in three years, bigger than both high schools," said Randy Weseman, Lawrence's superintendent of schools.
Lawrence isn't alone. There are now 18 virtual school programs in Kansas.
And that growth has led the Legislature to start asking questions, such as how students are performing and who's keeping tabs on them.
A special audit team is studying the state's virtual school programs and will complete a report by April, said Barbara Hinton, legislative post auditor.
"This is a performance audit, which gets into a lot of details and will compare how the virtual schools are performing compared to their brick-and-mortar counterparts," Hinton said.
She said there's also an obvious question: What kinds of controls ensure the virtual student really is a student?
"For example," Hinton said, "are there policies, (regulations) and statutes in place that would address the issue of, 'Is that really a student at the other end of that computer as opposed to the parent?'"
Lots of questions
The audit topic was requested by the Legislature's 2010 Commission, which is charged with monitoring school finance and school performance.
Audio Clips
Virtual schools
"It was an idea to keep the Legislature up to date with all the things that are happening in the schools," said Rep. Pat Colloton, R-Leawood, who suggested the topic to the commission.
Colloton, a member of the House Education Committee, said virtual schools have helped the state serve certain populations who weren't being served by existing public schools.
"We're finding in some areas, they are bringing students back into the school system," Colloton said. "Some home schools have really gotten into using it."
Schools such as the Lawrence Virtual School compete for students, with districts getting $4,316 in state aid for each full-time student enrolled, just as they would with students attending regular brick-and-mortar schools. At that rate, state aid for the expected 1,000 students in the local virtual school would equal $4,316,000.
However, the concept still is new to many people, according to Weseman.
"I think people have a lot of questions," he said. "It's a huge jump moving from a bricks-and-mortar school to a school that exists only on the Internet. : It isn't what some people think it is - you're not just turning your kids loose on a computer."
More than computers
"The legislative post audit is a way for the government to educate themselves about what we do," said Gary Lewis, principal of the Lawrence Virtual School.
Lewis said the LVS now has about 600 students from across the state and it's expected to grow to 1,000 to 1,200 students next year.
"Kansas families have realized that virtual education is a great option or choice for them," he said.
Students at the school don't just use computers, but they get a package of educational materials when they enroll, he said.
For students in grades K-8, one laptop computer and a printer is assigned to every three students in a household, and each full-time high school student gets his or her own laptop.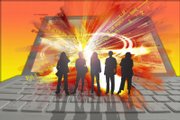 The package of materials also includes all curriculum resources, which would include textbooks and even a microscope or chemicals for science classes, he said.
The computers are on loan to the students and must be returned if they drop out of the program, he said. The school provides service to make sure the computers are up and running each day, he said.
Teachers might "meet" with students in a chat room. Or some teachers have weekly conversations with students on the phone and make contact through e-mail.
"We have office hours, but the school day is really a 24-hour day," Lewis said. "And we do have students who are doing their work at 1, 2 or 3 in the morning."
Weseman said many more people were starting to warm up to the idea of virtual schools.
"I think that's indicative of the digital age," he said. "People are becoming more and more comfortable with technology and are willing to pursue some options that five years ago they would have never considered."
The focus
Barbara Hinton, legislative post auditor, says the audit will focus on:¢ How prevalent virtual schools are in Kansas, what they cost and how well they perform.¢ Existing laws and regulations that oversee virtual schools, whether those laws provide enough oversight and how they compare with other states' laws.¢ What virtual schools exist in Kansas, what the enrollment history has been and how the enrollment compares with regular schools.¢ How students perform on state assessment tests compared with their peers attending regular schools.
Copyright 2018 The Lawrence Journal-World. All rights reserved. This material may not be published, broadcast, rewritten or redistributed. We strive to uphold our values for every story published.