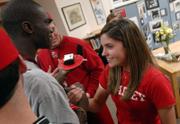 Adorned in a red T-shirt of her chosen school, Lawrence High senior Lauren Kelly signed her letter of intent Wednesday afternoon to play softball at Bradley University.
Then after thanking her family and friends, Sam Hays and Maegan Mathiasmeier, her teammates and those in attendance at the LHS library, the tears began to well up.
"I didn't think I was going to," Kelly said. "I was trying to suck it up, but when I looked at everyone, I just started to cry."
Such emotions are understandable, considering her achievement. Kelly becomes the first Lions softball player to play at a Division-I school since Dani May enrolled at Kansas University in 2000.
Kelly's college decision came down to two schools - Bradley and Southern Illinois. She chose the former for several reasons, including its academics, small student population and Peoria, Ill. location.
"I wanted to get away for a while," Kelly said. "I felt like Bradley was more hard on academics."
The versatile softball player has started on the LHS varsity team since her freshman year, manning outfield, catcher, third base and shortstop.
"That pretty much right there says what her athletic ability is," LHS softball coach Reenie Stogsdill said. "It would've been nice to have her at every position."
At Bradley, Kelly said she expected to play second base or shortstop for the softball team and concentrate on graphic design in the classroom.
On the diamond she has steadily improved her hitting, but fielding always has been her forte.
"She has a great glove," Stogsdill said. "She can backhand a ball and throw the runner out at first."
Kelly developed those skills through years of repetition, having started playing tee-ball during kindergarten.
As a result of that hard work, she will suit up for Bradley next spring.
"I'm really excited and looking forward to it," Kelly said.
Copyright 2018 The Lawrence Journal-World. All rights reserved. This material may not be published, broadcast, rewritten or redistributed. We strive to uphold our values for every story published.