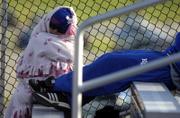 Tom Le isn't supposed to dress in a hooded sweatshirt and blue jeans in April.
The Kansas University freshman sat on a bench Friday afternoon in front of Snow Hall with the hood over his head and hands jammed in his pockets, waiting for a bus and lamenting the cold, blowing Lawrence air.
"I hate it," Le said.
Especially after last week's weather, which resembled summer rather than recent winterlike temperatures.
"I had my shorts on and I was ready for the warm weather," Le said. "And then this happened. I'm pretty disappointed."
So are many people in Lawrence after temperatures plunged into the 30s this week.
"Everyone whines about it," Le said. "They can't remember a time when it was this cold in April, especially after we had an 80-degree day."
The recent cold spell is unusual for April, but not unprecedented.
"It's been a long time since we've had this kind of cold incursion in April," said Mary Knapp, Kansas State University climatologist.
The icy air will continue through the weekend with highs in the 40s before returning to balmy 60-degree weather Tuesday.
At least one person isn't bemoaning the icy winds.
Ryan Banning, owner of Banning Mowing, said the freeze lets his landscaping business get caught up after last week's sun made the grass grow faster than usual.
"It got unseasonably warm and then it got unseasonably cold," Banning said. "That's Kansas weather right there."
Copyright 2018 The Lawrence Journal-World. All rights reserved. This material may not be published, broadcast, rewritten or redistributed. We strive to uphold our values for every story published.