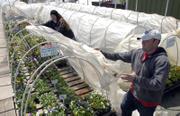 What a difference a couple of days can make.
On Monday, Lawrence residents were donning T-shirts and sandals and enjoying spring's colorful bliss.
Then a cold front hits and - wham! - it's back to wearing coats and covering up flowers and vegetable gardens.
"It was such a beautiful spring up until now," said Bruce Chladny, Douglas County's horticulture agent for K-State Research and Extension. "Sometimes, we just take it for granted because it was absolutely perfect."
Ailecia Ruscin and Lindsey Feitz, both Kansas University graduate students, also thought last week's temperatures were ideal for outdoor activities. Ruscin said she took a drive with her windows rolled down, studied outdoors and had washed and put away her sweaters.
"It was wishful thinking," Ruscin said.
On Wednesday, the colder temperatures - the high was 47 - took her and Feitz by surprise as they stood downtown shivering. Both said they hadn't dressed appropriately: Ruscin was wearing capri pants and Feitz had on flip-flops.
With the forecast calling for temperatures ranging from the mid-20s to 40 degrees during the next several days, Lawrence residents might want to not only cover themselves up but also their gardens and outdoor plants.
"The magic temperature that we are concerned about is 28 degrees or below," Chladny said.
He said the sap in the leaves and plants contain sugar, which would freeze. "If you start getting down into the low 20s, then you're going to see some real (widespread) problems."
Chladny said it is impossible to cover everything, but residents could try covering some of the tender annuals or perennials. He said the key is to enclose the foliage and seal it to the ground, which provides a heat source.
"Time and time again, what I will see is I will drive down the road at 7 o' clock tomorrow morning and there will be a bed sheet hanging over a crabapple tree in somebody's front yard. That does no good because there is no heat source."
He also said not to use plastic to cover plants. If you do, be sure the plastic is not touching the foliage. The plastic will pass along the cold to the plant and cause frost bite. He said to use bed sheets or other types of material. He said to use buckets for individual plants and to secure the bucket with a rock so it doesn't blow over.
"If you decide to cover any plants, make sure you get out there in the morning soon after the sun rises and remove your covering because temperatures can climb pretty quickly especially if the covering gets left on there too long," he said.
Mary Elston, a salesroom clerk at Howard Pine's Greenhouse and Nursery in Lawrence, said two employees spent Wednesday covering the plants that weren't in greenhouses.
She said the business opened in February and the cold weather hadn't slowed business. They are just telling customers to "cover, cover, cover," she said.
While there are some precautionary measures for urban residents, farmers aren't so fortunate.
Bobby Gabriel, who farms south of Eudora, could lose about $200,000 in profits if his 1,000 acres of wheat is damaged from the cold snap.
"We are scared by the end of the week and weekend that there's going to be a lot of wheat that gets killed," he said.
He's not alone. There are about 10,000 acres of wheat planted in Douglas County, according to the Farm Service Agency.
And Bill Wood, the county's agriculture agent for K-State Research and Extension, said they can only hope the temperatures stay above 28.
He said the wheat was in the jointing growth stage, which means it is getting more leaves that will be vital for producing high-quality and plentiful grain. He said the wet weather also could be damaging because the wheat is full of moisture, which could freeze as the temperatures drop.
"The wheat here in eastern Kansas is looking pretty good up until now. So, it would be nice if it would stay above 28 and then we wouldn't have to be too concerned. But if it drops down below the 20s, then we will have to go out next week when it warms up and take a look at some of the crops," Wood said.
Jennifer Schack, 6News chief meteorologist, said temperatures could hit record lows during the weekend. The record for Saturday is 25 degrees and for Sunday is 23 degrees. She said temperatures will begin to rise Sunday with more average temperatures Monday.
Copyright 2018 The Lawrence Journal-World. All rights reserved. This material may not be published, broadcast, rewritten or redistributed. We strive to uphold our values for every story published.