Lawrence High senior Tony Williams sucked air after finishing first in a series of post-practice gassers, but he still sported his trademark grin.
"If I didn't love it, I wouldn't be out here," said Williams, his words labored through deep breaths. "There's no way I would do this stuff if I didn't like it. If you enjoy it, it makes it a lot easier to come out here."
And the Lions love blocking for their No. 1 running back. On the rare occasions that Williams runs for no gain, he accepts the blame upon entering the subsequent huddle.
"He's very upbeat," LHS coach Dirk Wedd said. "He's got a great personality."
Williams began playing football in the seventh grade, but he developed a passion for the game at a much earlier age. He followed the Kansas City Chiefs, and Williams' father, Howard Clark, who played offensive line at Coffeyville Community College, used to give Williams pointers in the backyard.
"He really wanted me to play football," Williams said.
The senior must have taken his father's lessons to heart. The 6-foot, 200-pounder has surpassed 100 rushing yards in every game this season for the Lions (2-2). But Williams relies more on his vision and his power than his speed and moves.
"He's got some instincts," Wedd said. "He's not a real elusive back. He's not going to make people miss, but he's terribly strong, and he runs hard, and he runs with great effort."
Perhaps Williams best displayed that skill set during Week 3 - a 42-21 victory against Shawnee Mission South. He rushed for 207 yards and three touchdowns.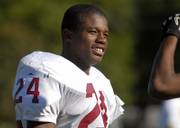 "I'd definitely say that was one of my best games," he said.
Williams cramped up late in the game, which is understandable. Heavily involved in every facet of the game, he serves as the rushing game's bell cow, blocks for fullback Tyler Hunt, racks up tackles as a linebacker-like safety and even handles the punting duties.
"There's nobody else in the conference that asks so much of their star running back," Wedd said. "He doesn't come off the field."
But it was at running back where LHS seemingly had a major hole to fill. Nolan Kellerman, who rushed for 1,488 yards and 15 touchdowns for the Lions' 10-2 squad last year, graduated. Wedd first saw an indication Williams would replace his departed back when Williams entered a playoff game against Blue Valley Northwest early in the first quarter last year.
"He ended up with probably 150 yards against them," Wedd said. "That told us a lot about the kid, that he could step up and play against a high level of competition."
Williams wants to continue his success at the next level. Wedd said he had received interest in programs ranging from junior colleges to Division-II schools. The senior, who likes Kansas University, wants to enroll at a good academic school with a strong football program.
"I want to go to the highest level possible," he said.
And he will go there with a smile on his face.
Copyright 2018 The Lawrence Journal-World. All rights reserved. This material may not be published, broadcast, rewritten or redistributed. We strive to uphold our values for every story published.