Scott Bloch doesn't expect to make friends.
"It's in the nature of the position that I have that you really can please no one - including the White House, Congress or the other agencies or outside interest groups," he said.
Bloch, a Kansas University graduate who spent more than a decade at the Lawrence firm Stevens & Brand, leads the U.S. Office of Special Counsel, the agency responsible for protecting federal workers and whistle-blowers.
Midway through his five-year term, Bloch chuckles when asked why he's become a lightning rod for criticism.
"When you're a presidential employee, that doesn't mean you get to be coated in Teflon," he said. "You are going to hear criticism, and we learn from that."
'Wonderful adventure'
Bloch visited KU Monday to recruit law students. He will deliver a lecture titled "Is There a Fourth Branch of Government: Independent Agencies and the U.S. Office of Special Counsel" at 12:30 p.m. today at Washburn University's law school.
Bloch started his five-year term with the agency in January 2004.
Since then, he's eliminated the agency's backlog and made the office more efficient and effective, he said.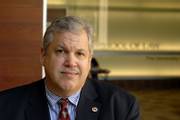 "It's been a wonderful adventure," he said. "I tell people that I feel that I'm among the luckiest people I know to have the opportunity to be in a leadership position, to have important work that goes to the heart of the public trust in government, that goes to issues of taxpayer concerns of waste of government money, fraud and abuse of authority and dangers to public health and safety. "
But critics are plentiful.
He's been accused of retaliating against employees and dismissing legitimate complaints and whistle-blower cases to reduce the backlog.
It's a particularly rough time for whistle-blowers, said Jennifer Gore of the Project on Government Oversight, a nonpartisan watchdog group.
"The environment is a hostile one," said Gore, the group's communications director. "You might as well be just walking into a lake filled with piranha if you're going to be a whistle-blower."
But Bloch's office points to a letter from the Congressional Committee On Government Reform that states the committee is satisfied with Bloch's work following a review of the office at Bloch's invitation.
"All I know is I keep getting exonerated and I keep getting investigated," Bloch said. "I leave it to others to determine whether it's a proper use of taxpayer funds to continually investigate someone who's already been exonerated by those who actually know what they're doing."
Facing criticism
Within months of taking his post, Bloch faced a furor regarding his decision to deny gay federal workers protection against discrimination based on sexual orientation. But Bloch maintains his office is working within its parameters.
And a media research group based at Sonoma State University in California calls the jeopardized state of federal whistle-blower protection one of the top 10 most uncovered stories in America.
Jeff Ruch, executive director of Public Employees for Environmental Responsibility, said the agency had high hopes for Bloch, but things have changed.
"His tenure has just been an unmitigated disaster," Ruch said.
Despite a record amount of whistle-blowing, the agency is investigating fewer cases, PEER wrote in a December press release. And Ruch said it's difficult to know what action, if any, is going on within the agency.
"I think people have come to the conclusion that the office ought to be abolished," Ruch said. "We think it's beyond repair."
To these and other criticisms, Bloch blames a press that fails to focus on what's important and interest groups and lobbyists bent on twisting the truth.
"I think it's important that readers - citizens generally - realize that much that drives our government and public opinion is unfortunately in the hands of very few lobbyists and special interest groups who have very loud voices," he said. "I think we see more propaganda than truth."
Copyright 2018 The Lawrence Journal-World. All rights reserved. This material may not be published, broadcast, rewritten or redistributed. We strive to uphold our values for every story published.