Kansas University's Hashinger Residence Hall may be a bright new example of how nice renovated student housing can be, but its opening has left some floors and wings of other KU residence halls dark.
KU closed the top floor of McCollum Residence Hall and three wings of Gertrude Sellards Pearson Residence Hall this semester, cutting 234 spaces that would have brought in more than $1.2 million for KU.
"Closing wings is not a strategy we've used before," Interim Student Housing Director Diana Robertson said. "It's a strategy that made sense to me."
On the rebound
Robertson said KU has yet to fully rebound after taking Hashinger out of the housing mix for a year and forcing some students to find housing elsewhere. Hashinger was shut down last year as it underwent a $12.6 million renovation. It reopened this fall.
"We had 350 fewer students in our system," Robertson said of the numbers lost when Hashinger closed. "We had 350 fewer students to start from coming back."
Rather than spread out the vacancies across campus residence halls, Robertson said she decided to consolidate and close off the wings for maintenance and painting.
"It seemed more fiscally prudent to me," she said.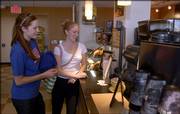 KU houses 4,922 students in on-campus residences. That's slightly higher than the 4,906 students housed last fall when Hashinger was closed. KU housed 5,073 students in 2004, when three floors of Hashinger were closed for the start of the renovation process.
The Hashinger project was the fourth in a string of renovations, with others expected in the future. KU renovated Ellsworth Residence Hall in 2001 and 2002. Lewis and Templin Residence Halls were renovated in the late 1990s.
The renovations reduced the capacity of many of the halls. Templin and Lewis went from a capacity of 430 students each to 280 each, and Hashinger from 480 to 370. Ellsworth dropped from an original capacity of 640 to 580, though the building was not being filled to its original capacity in the years before the renovation.
KU in recent years has added two scholarship halls, each housing 50 students.
Robertson said there is always a bit of a drop in numbers after a residence hall comes back from a renovation, but she said she didn't think the problem had previously hit KU to the same degree as it has this year.
More marketing
In hindsight, she said, the department could have done more marketing to students to keep the numbers up. The department is working on a marketing campaign to launch this semester to encourage students now living in the residence halls to come back next year.
"We're going to do a marketing campaign to remind folks what a good value we are and the top 10 reasons to live on campus - academic success and cost savings and time and community," said Kip Grosshans, associate director of student housing.
The campaign likely will include bookmarks, table tents, bus advertisements, posters and postcards highlighting the perks of living on campus, Grosshans said.
That likely won't fill the empty rooms for the spring semester but should ratchet up the numbers for next fall, Robertson said.
Meanwhile, she said, the department has turned off the utilities in the closed areas of McCollum and GSP and shifted staffing to address the budget shortfalls.
"You adjust your budget accordingly," Robertson said.
Robertson said custodians who left through retirements or resignations were not replaced and existing custodians were shifted to other areas rather than working the closed areas. The same, she said, was done for resident assistants.
Competition
KU student housing officials question whether the plethora of housing options in Lawrence has hurt on-campus housing.
Robertson said she doesn't believe KU competes with apartments for first-year students, with 75 percent of freshmen traditionally living on campus. KU is housing 3,023 freshmen, compared to 3,003 last year.
But after the freshmen year, students have options.
"We're trying to provide a close, convenient, educationally-focused living environment," Robertson said. "That's our niche."
But Bob Ebey of Landlords of Lawrence said many landlords have kept their rates steady this year to compete in an overbuilt rental market.
"I'm sure that the KU housing is going to suffer, too, if there's vacancies within the town," he said. "There is a competition between the residence halls and the private landlord because they're both renting to students."
Freshman Marthe Turlington said on-campus housing was her pick for her first year.
"You get the feel of college life," she said. "I get to meet more people. I don't have to worry about paying bills or anything."
But after living on campus, many move off. On average, about 1,900 students from sophomore to graduate level live on campus.
"It's more like you're actually living on your own when you're living in an apartment," said Jessica Kane, a KU sophomore who plans to move off campus next year.
Copyright 2018 The Lawrence Journal-World. All rights reserved. This material may not be published, broadcast, rewritten or redistributed. We strive to uphold our values for every story published.