Following a yearlong hiatus, Hashinger Hall is back in business with a new look.
The living quarters boast entirely new heating, cooling, plumbing and electrical systems.
"It's been completely gutted out," said Diana Robertson, interim director of KU Student Housing. "It's a part of our ongoing renovation plans for the entire system, and we will continue to work our way through the buildings over the years."
According to Robertson, Hashinger was definitely due for some renovations for various reasons, including student life.
"It was a nearly 40-year-old building, and it was critical that we completely changed out the infrastructure," she said. "It's real important to the energy efficiency of the building and student comfort. I think their experience will be a positive one in that environment."
Hashinger now will consist of two-person rooms with a shared rest room. As part of the renovations, the rooms will include sinks.
"We're not losing any spaces, because we're now including having spaces on the first and second floors," Robertson said.
Hashinger will continue to be a center for the creative arts, equipped with various studios and practice rooms.
In addition, the second floor south of Hashinger will house The Studio, a different type of dining hall for students on meal plans.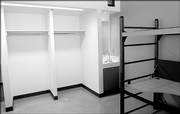 "Not only will it be new, but it will be innovative in that pretty much everything will be cooked to order," said Sheryl Kidwell, assistant director of KU Dining Services.
"We will have the type of things students tell us they would like to eat when our other residence halls' dining facilities are not in operation."
Kidwell said she estimates The Studio will stay open as late as midnight or 1 a.m., based on research conducted by dining services that shows students want more in the way of late-night eating options. However, Kidwell noted the fall semester will offer the opportunity to more effectively gauge what the hours of operation should be.
Students can expect burgers, sandwiches, pizza and appetizers as well as soft-serve ice cream. There also will be options for students on stricter diets.
"We'll have some healthier selections for those who are conscious about that," Kidwell said.
Besides made-to-order options, there also will be a retail area with à la carte items.
Within The Studio is Pulse, KU's signature coffee shop, which features several kiosks around campus. The Pulse location within The Studio will include a stage, enabling campus groups to recruit various types of entertainment.
The entire facility will seat approximately 140 to 150 and include a patio for outdoor dining. Inside will be a fireplace as well as flat-screen TVs.
"Our hope for the space is that it provides another alternative for the students to use to get the full value of their meal plan. This facility will give them the opportunity to use the cash on their card without having to get in their car and leave campus," Kidwell said.
"It will also give students a place to gather socially without the worry of alcohol and that kind of thing, as well as another option for entertainment on campus right where they live."
Copyright 2018 The Lawrence Journal-World. All rights reserved. This material may not be published, broadcast, rewritten or redistributed. We strive to uphold our values for every story published.