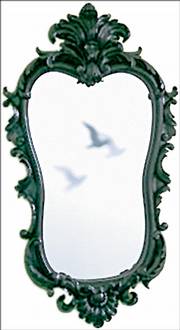 Living away from home for the first time is one of the biggest transitions a college student makes. Sharing a small space with a stranger can make that transition especially challenging.
However, making that space a little cozier and more colorful can make a bare square feel like a new home. With just a little planning and a few unique accessories, students can decorate their dorms, turning their little space into their own little bit of home.
First, find out what dorm furniture is provided, and plan around that. Bunking the beds is an option offered in some residence halls at KU. This allows for more space for extra furniture such as a comfy chair or a futon.
"We got a whole bunch of extra furniture, and we found some cute things and some rugs and kind of tossed it all together," sophomore Caitlin Shanks said.
Shanks contacted her roommate well in advance to decide who was bringing what. They divided up the bigger items such as a mini fridge and a microwave and brought plenty of items to make the room their own.
"We were the first in the dorm to have all the furniture there off the bat because we had planned it," she said. "A lot of people came and hung out there, and that was nice."
Photos played a huge role in Shank's room, she said. She framed photos of her friends and hung up KU posters.
Finding an interesting frame really decorates a plain photo. Look for sales and bargains around town to find something unique. An old frame can have a new life: Vintage frames are offered at many stores and give a lived-in feeling to any room.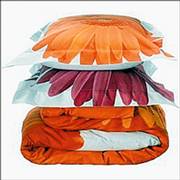 Lighting
Lamps are a necessity for any student because they add function and style. While one roommate might be studying late at night (or early in the morning), a lamp offers concentrated light without waking up the other.
Finding a cute, colorful one is easy with the many stores in Lawrence. Blue Heron, 921 Mass., offers lamps in many colors and styles.
"The lamps are a big seller," sales associate Paige Ensminger said. "The star lights are always a hit."
Blue Heron carries both big and small stars. The smaller ones are $27, and the larger ones are $35. The various colors give a room a different feel.
"It's nice being able to add color with a few lamps since you can't change the walls in a dorm room," Ensminger said. "It's a nice ambiance with less direct light. It's a great way to add an accent color."
KU students have embraced this policy and have worked to make their rooms warm. Whether it be lamps or Christmas lights, lighting adds vivacity to a dull room.
"The lamps make it cozier," sophomore Emma Ewert said. "You live there for four years. It should be warm and friendly."
Comforts of home
"Students do a really good job of making their rooms very homey," said Jennifer Wamelink, assistant director for residential life. "Everything is color-coordinated. Some students do a really nice job of making their room very comfortable. It's just amazing."
Making a residence hall room feel more like home is a great way to start the year on a high note. How students achieve this feel may differ, but the goal is the same.
Because the residence hall rooms are usually not carpeted, buying a carpet adds an extra level of comfort. And for all of those pizza parties, it is an extra place to sit. Some carpet stores offer extra cuts of carpeting. There are also more colorful rugs at department or home supply stores.
"Since the floor is hard, we had carpet or a rug," Ewert said. "It helps it be more comfortable. It is so bare without it."
Senior and residential adviser Lance Watson encourages students to transform a dorm room into their own.
"Bring things from far away that will remind you of home," he said. "When you get a little homesick, it will remind you and keep you in touch with home. Turn your residence hall you're given into your room. It's home for nine months out of the year. Make the best out of it."
Watson follows his own advice, decorating his room with a treasure from home proudly displayed on the wall.
"My Louisiana flag is my favorite thing," he said. "It was given to me by my parents when I graduated from high school. It is a symbol of home."
The bare, off-white walls give dorms their prison feel. Covering the walls in color will eliminate the Alcatraz effect. Many students hang pieces of art or posters to make the dorm room their own.
Fields Gallery, 712 Mass., offers original artwork starting at $35. Sales manager Sheila Wilkins guides students though the art-buying process.
"I suggest that they look around and see what draws their attention, and I can start making some suggestions," Wilkins said. "They take time to look around and identify qualities that appeal to them - figural, abstract, geometric or surrealist."
Wilkins suggests to students that they should not be afraid to mix up styles of artwork or other objects to decorate a room.
"It's good to be open, pick what you like and mix it together," Wilkins said. "A room will come together when choosing things that you like to your taste. It's experimental."
Copyright 2018 The Lawrence Journal-World. All rights reserved. This material may not be published, broadcast, rewritten or redistributed. We strive to uphold our values for every story published.