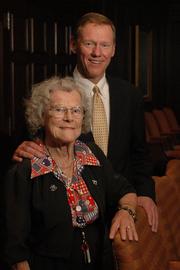 Detroit — Bill Ford is stepping down as chief executive at Ford Motor Co. and the troubled automaker said Tuesday he will be replaced by Alan Mulally, a top executive from the airplane maker Boeing Co.
Bill Ford will remain as chairman of Ford Motor, however.
Mulally, previously executive vice president of Boeing and president and CEO of Boeing Commercial Airplanes, has also been named president at Ford. Mulally is a graduate of Lawrence High School and Kansas University.
Mulally, 61, was widely praised for being a key architect of the resurgence of Boeing's commercial airplanes unit over the past couple of years. He was a top candidate for the Boeing CEO job last year but the company went outside instead to select aerospace veteran Jim McNerney, then the 3M Co. chief executive.
In announcing Mulally's appointment to Ford employees, Bill Ford said in an e-mail that Ford's turnaround effort "required the additional skills of an executive who has led a major manufacturing enterprise through such challenges before."
Mulally has spent 37 years at Boeing.
Mulally, at the head of that company, was praised as having the second-best executive performance of 2005, according to Business Week magazine.
The magazine included Mulally, the Boeing division's CEO, on its annual list of top-performing executives, ranking him behind only Steve Jobs, who snagged the top spot on the strength of Apple's wildly successful iPod advances. Also appearing on the list, at No. 11, is Gary Forsee, chief executive officer of Sprint Nextel, who led Sprint's $35 billion takeover of Nextel and is steering the company toward wireless technologies; the firm maintains its operational headquarters in Overland Park.
Mulally was lauded for engineering a "remarkable recovery" at Boeing Commercial Airplanes following the 9-11 terror attacks by streamlining production and turning Boeing's "superefficient" 787 Dreamliner into the hottest-selling new jetliner in history.
Earlier this year, he praised his Lawrence education in an interview with the Journal-World.
"Engineering is about creative solutions, balancing many objectives, that there's always a way. And that leads you to learning about working together, because we have great design teams, and opportunities to work in teams, and to do great things - and find a way to get it done - takes the talent of everybody. And, also, to appreciate different perspectives. And maybe the last thing - it could be the first thing - is that, growing up in Kansas and (attending) the University of Kansas it's all about ethics of doing the right thing. And, of course, that's a big part of creating new airplanes."
Copyright 2018 The Lawrence Journal-World. All rights reserved. This material may not be published, broadcast, rewritten or redistributed. We strive to uphold our values for every story published.