Lauraine Mulally's son goes to work each day with a contagious smile, a can-do attitude and a strong desire to be the best, both for himself and the company he works for.
Thanks, Mom.
"Always, the most important thing my mother stood for, and taught all of us, was to treat others as we would want to be treated, to be true to yourself, and to assess and think about how to serve and how to really contribute," says Mulally, who grew up in town, graduated from Lawrence High School and received bachelor's and master's degrees in engineering from Kansas University. "One of the neatest things is she always said the purpose of life is to love and be loved, and to expect the best of yourself and others, and to enjoy others - and also to have fun."
He pauses, just to make sure he hasn't missed any other lasting lessons learned from Mom, who lives in an apartment off Sixth Street.
"Those," he says, "are the biggies."
Mulally is answering questions at 30,000 feet, calling from a company jet on the way to Phoenix from Seattle. That it happens to be a 737 is appropriate, considering it must accommodate the long trips and business demands of a man who leads the largest division of the United States' largest exporter.
As president and chief executive officer of Boeing Commercial Airplanes, Mulally isn't on the ground for long. In the past two weeks he's been to Japan, China, Kenya, Ethiopia, Qatar and Singapore, and managed to squeeze in a personal meeting in Seattle with Chinese President Hu Jintao - after which Mulally addressed a rally of 5,000 Boeing employees, pumped his fist into the air and shouted a now-famous line: "China rocks!"
Mulally will be in Lawrence this week, first to meet with Mom and then to address a Tuesday luncheon at SpringHill Suites by Marriott, organized by the Lawrence Chamber of Commerce.
A few thoughts from an interview earlier this week: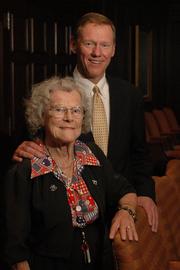 ¢ On China, a country that already has paid $37 billion for 678 airplanes since 1972: "Nearly 10 percent of the GDP in the United States is based on aviation; Boeing is the largest exporter in the United States. Probably 10 percent to 12 percent of all our new airplanes over the next 20 years are going to be going to China. There are 1.3 billion people in China getting ready for an airplane trip, and if it's not on Boeing, they're not going."
¢ On fuel-efficiency being the biggest factor in airplane design: "It always has been and always will be. And, especially with oil prices being high, that's one reason the whole world prefers the Boeing airplanes - because they're more efficient than the competition."
¢ On what he learned in college: "Technical excellence. Also, lifelong learning - that college is a great start, but the most important thing is to keep learning. And the find-a-way attitude: Engineering is about creative solutions, balancing many objectives, that there's always a way. And that leads you to learning about working together, because we have great design teams, and opportunities to work in teams, and to do great things - and find a way to get it done - takes the talent of everybody. And, also, to appreciate different perspectives. And maybe the last thing - it could be the first thing - is that, growing up in Kansas and (attending) the University of Kansas it's all about ethics of doing the right thing. And, of course, that's a big part of creating new airplanes."
¢ On advice for college graduates, at KU, Baker University and Haskell Indian Nations University: "The first thing I would say is congratulations. What an accomplishment. And, going forward, I would think about where you want to contribute, where you want to make a difference. There are so many opportunities. Everybody is looking for talented people that have a passion, that believe in lifelong learning. I would also stress learning about business, and how effective it is to have the marketplace and capitalism allocate precious resources. It's really about profitable growth for all, for everybody - the business, the employees, the investors, and the communities in which we live."
Chamber series
Alan Mulally, president and CEO of Boeing Commercial Airplanes, will discuss his company's overall resurgence and presence in Kansas during the Lawrence Chamber of Commerce's Spring Luncheon Series, at noon Tuesday at SpringHill Suites by Marriott. Jim Haines, president and CEO of Westar Energy, speaks May 31.
Cost for each event is $25 for chamber members and $35 for nonmembers. To register, go to www.lawrencechamber. com or call Cathy Lewis at 865-4406 or Kim Wampler at 865-4411.
Copyright 2018 The Lawrence Journal-World. All rights reserved. This material may not be published, broadcast, rewritten or redistributed. We strive to uphold our values for every story published.