Hopefully, Iowa State's football team set aside enough cash in the budget to account for all the ice packs, gauze and athletic tape it's using this football season.
Because, man, times are tough - and painful - right now in Ames.
To add injury to an already insulting season, the Cyclones are banged up beyond belief, and it's made a recent slide almost impossible to recover from. The Cyclones' 31-10 loss to Kansas State last week was marred by important personnel standing on the sideline unable to go - some of whom won't be available for Saturday's game against Kansas University, either.
The biggest absence was star wide receiver Todd Blythe, who was in street clothes because of a viral infection. Another receiver, Jon Davis, left the KSU game in the second quarter because of a chest injury. A third, Austin Flynn, is playing through a tender ankle.
The list goes on, so get comfortable.
Starting running back Stevie Hicks (knee) didn't play against Kansas State and isn't expected to play against the Jayhawks. His replacement, Jason Scales, missed most of the second half against K-State because of an ankle injury, though he's expected to be back.
Starting offensive guard Tom Schmeling (knee) didn't even make the trip to Manhattan and is off the depth chart. On an already struggling defense, a serious knee injury to preseason All-Big 12 cornerback DeAndre Jackson two weeks ago ended his season eight games in.
"It's not easy," ISU coach Dan McCarney said Monday, "but it's a team game, and we all have 85 scholarships available. You have to be good enough to overcome those."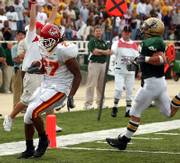 And Iowa State just hasn't been, particularly in Big 12 Conference play. After squeaking out victories against Toledo, UNLV and Division I-AA Northern Iowa in the nonconference portion of the schedule, Iowa State has lost all five of its league games in humbling fashion.
In those games, the defense has been a liability - league opponents have scored an average of 34.4 points per game on the Cyclones. ISU's offense, meanwhile, hasn't been able to keep up, scoring just 14.6 points per Big 12 game.
Certainly, the Cyclones' passing game poses the biggest threat, but maybe not when the top three targets are banged up like they were last week. The ISU depth chart released Monday shows Blythe possibly being ready for the Kansas game but not Davis.
Flynn, meanwhile, will keep playing through his setback. He had three catches against the Wildcats, but the Ames Tribune reported that Flynn "clearly did not have the same speed he usually does."
"It bothers me a little bit," Flynn told the Tribune, "but I just think I need to be on the field."
He's right. As roughed up as the Cyclones are, there's no wiggle room for the minor injuries to be major setbacks.
"We've got to find a way," McCarney said, "and the next guy has to be able to step up for us and do the job and help us win games."
Copyright 2018 The Lawrence Journal-World. All rights reserved. This material may not be published, broadcast, rewritten or redistributed. We strive to uphold our values for every story published.