On weekends, John Jackson gathers his camera, maps and other documents, gets into his car and takes a trip back in time.
A 44-year-old retired Army officer living in Chanute, Jackson travels throughout Kansas in search of cemeteries where Civil War veterans are buried. He takes photographs of their tombstones, searches newspaper microfilm and other sources for their obituaries and biographies, and posts the information on a Web site.
"I've seen all kinds of fascinating stories," Jackson said. "Every time I look up an obituary, it's like an adventure. You don't know what you are going to come across."
He said one of his more fascinating finds was the grave of Charles T. Connelly, a Civil War veteran with the Union's 9th Indiana Artillery Battery. Connelly survived the war, became a teacher and then took a temporary job as marshal in Coffeyville.
"Unfortunately, the Dalton brothers decided to rob some banks at the same time," Jackson said. "Mr. Connelly was shot in the back and died."
Connelly is buried in Independence, Kan.
Then there is story of George M. Dewey, buried in a Chanute cemetery. Dewey was a Union spy operating in Virginia, Jackson said. Dewey also worked for editor and eventual presidential candidate Horace Greeley at the New York Tribune. Dewey died from heart disease in 1912.
Photo Gallery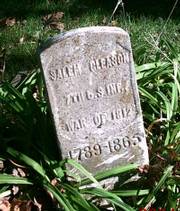 Civil War tombstones
Jackson's interest in Civil War graves and the old soldiers began after he settled his family in Chanute and left the Army, where he was an instructor in the Czechoslovakian and Arabic languages. He was researching his wife's genealogy when he received a picture of an old tombstone marking the grave of one of her relatives who had fought in the Civil War.
"I just thought that was really neat," Jackson said. "I started photographing cemeteries here, and it just spiraled out. I'm up to about a two-and-a-half-hour drive away from my house."
Jackson has visited more than 140 cemeteries and documented about 3,000 tombstones, he said. Most can be found on his Web site.
Included among his stops are Lawrence's Oak Hill Cemetery, where Kansas senator and abolitionist James Lane is buried along with two Civil War veterans who earned the Medal of Honor. He also visited the Baldwin Cemetery.
Jackson said he didn't know about Pioneer Cemetery, on Kansas University's west campus, which also has the graves of many Civil War veterans.
In addition to discovering cemeteries using the Internet, Jackson often finds them just by stopping at a gas station and asking where the area's oldest cemetery is.
More about Lawrence and the Civil War
"You get a lot of strange looks," he said.
Jackson has documented the graves of 30 state legislators and three governors who fought in the war, though he is sure there have been more governors who were veterans.
He is especially interested in the Civil War because of what the nation was going through in the mid-19th century. The war helped prepare the country for wars to come, including World War I and II, he said.
"The country was so factionalized then that it would never have been able to handle a (foreign) war if it had not fought the Civil War," he said.
Jackson, however, sees his passion as more than just a hobby.
"Part of the reason I do this is because a lot of the tombstones in three, five, maybe 10 years, you are not going to be able to read them anymore," Jackson said. "It's my little way of preserving them."
Many of the graves of Civil War veterans are at isolated, forgotten sites, covered by grass and weeds.
"It's sad to think that somebody who helped shape Kansas is going to be forgotten like that," he said. "I just want to let people know who these people were."
Copyright 2018 The Lawrence Journal-World. All rights reserved. This material may not be published, broadcast, rewritten or redistributed. We strive to uphold our values for every story published.