First Lt. Edwin Talcott, an assistant surgeon for the Eighth Kansas Volunteer Infantry, saw disease and bullet wounds devastate soldiers during his five years in the Civil War.
Rex Patty, a nurse practitioner from Topeka, portrayed Talcott and worked Saturday at a Civil War medical tent in South Park. The amputation kit always widens their eyes, he says.
More than 30,000 Union soldiers died from gunshot wounds, but surgeons also dealt with something more deadly.
"The No. 1 cause of death was diarrhea," along with dysentery, which killed about 44,000 Union soldiers, Patty said. "That was from bad water, bad food and bad cooks."
More than 100 people stopped by his tent Saturday. Dozens of other re-enactors, including the Sons of the Union Veterans in Lawrence, shot cannons and rifles as part of the Lawrence leg of War on the Western Frontier, a regional celebration.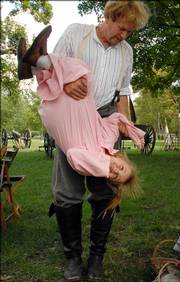 "I think we are faced with a lot of pressure to revise history. And I think that some people have to look at the historical records and present as close as can be what the facts were," Patty said.
"What these guys did is who we are now," said Roy Lafferty, of Lawrence. "Our generation is built on what came before us."
At other events Saturday, fundraisers produced about $800 for the Watkins Community Museum of History, said archivist Helen Krische. A band played Civil War-era music in South Park, and a vigil at Oak Hill Cemetery honored those killed in Quantrill's Raid on Lawrence.
C.E. "Sonny" Scroggins, of Topeka, portrayed James "Whitfield" Ross as a member of the First Kansas Colored Volunteer Infantry, the first former slaves to see action in combat. Scroggins, a civil rights activist, travels the country to educate people about the unit, formed by James H. Lane.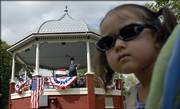 "When I passed Lecompton, I kind of got a little chill because this is where it all started," Scroggins said.
A mural in the Statehouse soon will honor the unit, and Scroggins said it's important today because America is again at war.
"We've got people wanting to kill us. We need to come together. We really do," he said.
Re-enactors will keep the encampment open to the public from 10 a.m. to 2 p.m. today in the southwest corner of South Park.
More about War on the Western Frontier
Copyright 2018 The Lawrence Journal-World. All rights reserved. This material may not be published, broadcast, rewritten or redistributed. We strive to uphold our values for every story published.