The story is familiar, but it's coming to a completely new stage.
A cast of 47 is putting the finishing touches on this year's incarnation of "The Ballad of Black Jack," a longtime staple at Baldwin's Maple Leaf Festival that is making its first appearance in Lawrence in 20 years. It opens Thursday at the Lawrence Arts Center, 940 N.H., and continues Friday, Saturday and Sunday.
"I'm really happy we're doing this in a new venue," says Carolee Vincent, a Tonganoxie resident who is directing the musical. "We know people in Baldwin have seen it, but I don't know if people in Lawrence have seen it."
The musical tells of the Battle of Black Jack, believed by many historians to be the first skirmish of the Civil War. It involved much-famed Free State leader John Brown and occurred about three miles east of present-day Baldwin.
The musical's board of directors decided to move this year's performance to Lawrence after several years of dwindling attendance in Baldwin. Bob Newton, a performer and board member, says the show may have been hurt by holding it during the Maple Leaf Festival because there were too many other activities going on.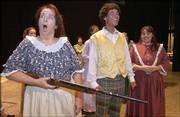 The "Ballad of Black Jack" board hasn't decided where to stage the musical beyond this year. That decision will come after the performances are over.
'Resurgence'
In Lawrence, the performance will coincide with Bleeding Kansas-related events during Civil War on the Western Frontier. Newton says he hopes the show will benefit from recent discussion about creating a Bleeding Kansas National Heritage Area and by efforts to preserve the Black Jack battlefield.
"We were kind of ahead of our time," Newton says. "We're hoping to benefit from the resurgence."
The musical was written in 1970 by Don Mueller, who still lives in Baldwin. It was performed in Baldwin from 1970 to 1983, once in Lawrence in 1986 (in a newly refurbished Liberty Hall) and again in Baldwin from 2001 to 2005.
"It's going to be exciting to see if Lawrence supports the show," Mueller says. "It did it once before - it was well-attended."
Kassy Fewins, a second-year cast member and Lawrence resident, says holding rehearsals in Lawrence hasn't changed the process much - other than it's a shorter drive for the cast members, many of whom live in Lawrence.
Audio Clips
Ballad of Black Jack
"I don't know that rehearsals have been all that different," she says. "Having it in Baldwin, we had the benefit of being commuters, and talking and singing the songs in the car. Now, I'm a soloist in my car."
'Leaner' show
The location isn't the only thing different about this year's show.
Each year, depending on casting and Mueller's ideas, the musical changes slightly - a song might be added, or a new part might be written into the plot.
But this year, Mueller decided to do a major overhaul of the dialogue, to cut the show down to around two hours.
Past Event
When: Thursday, August 10, 2006, 7:30 p.m.
Where: Lawrence Arts Center, 940 New Hampshire St., Lawrence
Cost: $7 - $14
-->
-->
"We don't think people are entertained any longer than their rear ends say they are," Mueller says. "We decided to take out every line that didn't advance the plot, except for a running gag."
The result, says first-year cast member Phil Bradley, is a streamlined show.
"This is a shorter, tighter, leaner machine," Bradley says. "You're not missing anything from the story, but it will be more enjoyable."
The cast ranges from children to senior citizens and involves several people who have been in the play for 10 performances or more.
Bradley, who lives in Lawrence, says he got involved in the musical as a way to show appreciation to the historical community in Lawrence.
"You have very few opportunities, and they're growing increasingly rarer, to show that," he says. "This is one of those few remaining things to give back."
"Plus," he adds quickly, "I'm a natural ham."
Copyright 2018 The Lawrence Journal-World. All rights reserved. This material may not be published, broadcast, rewritten or redistributed. We strive to uphold our values for every story published.