Soldiers serving in the Civil War had to have at least two teeth in order to shoot a musket.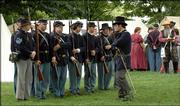 They had to bite off paper surrounding gun powder, then quickly load it into their muskets.
"They could load and fire three aimed shots in one minute," Jim Speicher, a member of the Sons of Confederate Veterans in Kansas City, said Saturday.
Speicher presented a demonstration about muskets at a Union Civil War encampment on the west side of South Park, 11th and Massachusetts streets.
He directed two men dressed as guerrillas for the Confederate Army to fire. As the muskets were shot, people clamped their hands of their ears and cars passing by slowed down to see what was happening.
"It's a great opportunity to show how soldiers lived and connect people with this time in our history," Speicher said of the encampment.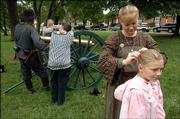 The encampment, one of several area activities relating to today's anniversary of Quantrill's Raid, continues from 10 a.m. to 2 p.m. today at the same location.
The encampment armed people with information about life during the Civil War, including opportunities to learn about period fashion, food and medicine.
"I was surprised to lean that women usually only had two dresses," said California-resident Andrea Hughes, who was in Lawrence visiting relatives. "They had three dresses if they were very rich."
She said she hoped it would make her daughter, 8-year-old Elena Munguia, more appreciative of her closet full of clothes.
"I guess we'll see," she said.
Copyright 2018 The Lawrence Journal-World. All rights reserved. This material may not be published, broadcast, rewritten or redistributed. We strive to uphold our values for every story published.