If all goes as planned, between 200 and 300 people will take part in the Aug. 15-21 commemoration of William Quantrill's raid on Lawrence.
Now in its 10th year, the anniversary event is sure to attract some out-of-town history buffs.
That's fine, but there's a bigger story to be told.
A Lawrence-led coalition has asked Congress to put up $10 million over 15 years for a Bleeding Kansas and the Enduring Struggle for Freedom National Heritage Area, comprised of 38 counties in eastern Kansas and western Missouri.
The money would be used to develop and promote exhibits, museums and historic sites within the region.
"The goal, ultimately, is to do a better job of interpreting our heritage on a day-to-day basis," Judy Billings, a coalition leader and director of the Lawrence Convention and Visitors Bureau.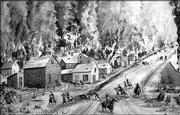 "We're looking for ways to tell the whole story of why people came to this harsh landscape all those years ago, why they left, why they stayed and why we're here today," she said.
Too often, Billings said, an outsider's access to local history is driven by local funding.
"The story that's told is determined by funding source," she said. "There's not much interconnection from city to county to state. We'd like to blur those lines."
The proposed Bleeding Kansas and the Enduring Struggle for Freedom National Heritage Area passed the House last week. It's expected to reach the Senate after Congress reconvenes n September.
If it passes, Billings said she would begin immediately to draw up a master plan for promoting Bleeding Kansas sites.
For Douglas County, that could mean developing the Black Jack battlefield site near Baldwin, exhibits at the Watkins Community Museum of History, trails connecting historic sites and signs talking about Bleeding Kansas.
Copyright 2018 The Lawrence Journal-World. All rights reserved. This material may not be published, broadcast, rewritten or redistributed. We strive to uphold our values for every story published.