Kerry Altenbernd always saw theatrical portrayals of John Brown - the ones where the abolitionist is a larger-than-life character with a booming voice - and didn't think they painted a complete picture.
"I don't think I ever saw John Brown as a wild maniac, though a lot of people see him that way," Altenbernd says. "It's different if you think about what his options and his motives were."
Altenbernd hopes to give as accurate a portrayal of Brown as possible starting Friday as he stars in "John Brown's Harpers Ferry Chronicles," which follows events of the attack in West Virginia that eventually led to Brown's hanging.
The play continues with shows Saturday and next weekend.
It's the latest Civil War-era offering from local playwright Napoleon Crews, who has now turned three of his "dime novels" into works for the stage.
"You hear a lot about Harpers Ferry and what happened there," Crews says. "And a lot of historians know some of the specifics of why John Brown went there with 21 men. But the average person thinks he led them there because he was crazy and didn't think things out."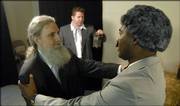 Brown's plan was to free slaves throughout the South so they could fight against their captors and government entities that were aiding the institution of slavery. Specifically at Harpers Ferry, he and his men planned to take over the U.S. Arsenal and Armory located there, to have arms for the attacks.
But Brown overestimated the number of men who would join him and underestimated the response from Southerners in the October 1859 raid. His men were defeated.
Ten of Brown's men were killed, seven were captured, and five escaped. Those who were captured were tried and hanged.
Crews relied on several books to recreate dialogue - some of it identical or closely mirroring actual words said by Brown and his men - and the events that took place.
"We want to let the audience know what John Brown and the men went through there," Crews says. "We're not painting John Brown as one way or another. We want to let the events take care of that."
See the show
What: "John Brown's Harpers Ferry Chronicles," by Napoleon Crews When/where: Dinner theater at 7 p.m. Friday and Saturday, St. Luke A.M.E. Church, 900 N.Y., and 7 p.m. Aug. 25-Aug. 26, Lawrence Arts Center, 940 N.H. Tickets: $25 for the dinner plays at St. Luke by calling 841-0847 or 856-1118; $15 for the play at the arts center, 843-2787. Proceeds benefit St. Luke.
Doug Weaver, who is directing the play, says anyone interested in history has an opinion of Brown. Trying to funnel that passion into the play has been a key, Weaver says.
"When it comes to John Brown, I have the same image that most people do: the mural in Topeka, or more for me, the Kansas (band) album," Weaver says. "I'm sure that image is one that exists in John Brown, but there's so much more."
The play also deals with how people of different races viewed Brown. Five black men were among the 21 accompanying him in the Harpers Ferry raid.
"John Brown - enigma isn't the right word, but he's a lot of different things to different people," Altenbernd says. "The way he's perceived in American history has had ups and downs in the time since he died. That's in the white community. The black community has branded him a hero from day one."
But Crews says the play will allow audience members to decide for themselves how Brown should be portrayed in history.
"I'd like people to come and see it - I learned some things writing it," he says. "It gives you a little bit of a feel for what happened over there."
Copyright 2018 The Lawrence Journal-World. All rights reserved. This material may not be published, broadcast, rewritten or redistributed. We strive to uphold our values for every story published.