A Civil War heritage group wants to see that a monument in Pioneer Cemetery gets a much-needed facelift.
The first step will be placing a plaque on the 100-year-old obelisk which, until early in the summer, had been mostly covered by underbrush. It was built as a memorial to Civil War veterans buried there.
The Lawrence chapter of the Sons of Union Veterans will give a ceremony commemorating the planned rehabilitation of the monument as well as a tribute to the dead soldiers later this year around Veterans Day.
"Our sole purpose is to remember those who fought in the Civil War," said Bob Wandel, who handles graves registration and memorial activities for the chapter.
The monument is made of brick covered with stucco. It has several cracks and chips and needs to be replastered and sealed from the elements. The work is expected to cost between $1,500 and $2,000. Fundraisers will be planned over the next several months so that the work can be done sometime next year, Wandel said.
The new plaque will replace a similar plaque the monument had when it was erected in 1906. The original has been missing for decades. The national headquarters of Sons of Union Veterans gave the Lawrence chapter $500 to pay for the new copper-plated plaque.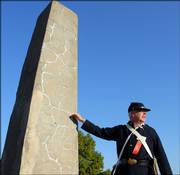 There could be up to 150 unidentified veterans buried at the site, according to an historical account about the monument's original dedication ceremony. It is not known how that number was derived or exactly what group of soldiers it refers to, according to a 1996 report prepared by local historian Karl Gridley.
The monument was recently examined by Ben Graham, a Lawrence plasterer who has worked on several of the city's older historical buildings and houses.
"We'll have to remove the surface and get it down to where it's solid," Graham said of the work that needs to be done. "Then it will take several applications of plaster."
The monument also is slightly tilted and would need to be straightened, Graham said.
The cemetery is owned by the Kansas University Endowment Association and is on KU's west campus south of the Lied Center parking lot.
Equipment to do the work must be carried in from outside the cemetery, said Daryl Beene, the association's senior vice president of property. But trucks aren't supposed to be driven onto the cemetery grounds, he said.
"Sometimes, out of respect for the property, or in this case, the cemetery, I just think we need to be more careful - not that they wouldn't be," Beene said.
How to help
Donations to help pay for rehabilitating the Civil War monument in Pioneer Cemetery can be sent to: Bob Wandel, Sons of Union Veterans of the Civil War, 2731 Bonanza, Lawrence, KS 66046.
Wandel said Sons of Union Veterans members would pitch in and help a plasterer with carrying the equipment when the time comes.
Many of the graves are those of Lawrence's earliest settlers, as well as military personnel. It was initially the resting spot for the victims of Quantrill's 1863 raid until those remains were moved to Oak Hill Cemetery. One grave at Pioneer is still that of young recruit killed in the raid.
In July, several markers were uncovered when work crews cut down bushes at the cemetery.
Part of the Sons of Union Veterans' mission is preparing records of where Civil War veterans are buried and seeing that monuments and tombstones are erected or replaced.
"Since they don't have anybody left to take care of their graves, somebody needs to do it, and that's what we do," Wandel said.
Copyright 2018 The Lawrence Journal-World. All rights reserved. This material may not be published, broadcast, rewritten or redistributed. We strive to uphold our values for every story published.