More than 200 students and researchers from across the globe have landed in Lawrence for the biennial meeting of Globalization of Pharmaceutics Education Network, a pharmaceutical sciences conference.
"Our industry is very globalized," Kansas University graduate student and conference organizer Kelly Desino said. "It's such a good experience to start meeting students who are going to be in the same field as you."
The conference, which requires an invitation to attend, begins today and runs through Friday, with events at several venues in town.
It brings together students, faculty and industry representatives from 40 universities and five continents. Students will have the opportunity to present their research, meet with industry representatives and socialize with other students in the field.
Because institutions can't send every student, they select the talented and oftentimes senior students in their programs, said Dan Mudra, KU graduate student and conference organizer.
"It really is the upper crust of each of these programs," he said. "It is an opportunity for students to interact both scientifically and socially with their colleagues."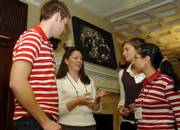 The conference is returning to Lawrence, where it began a decade ago with a gathering of 55 students and faculty from 11 universities. In the years in between, the conference has been in such places as Japan, Switzerland, Sweden and Michigan.
"It was an experiment that turned out to be very successful," said Ronald Borchardt, KU's Solon E. Summerfield distinguished professor of pharmaceutical chemistry. "I find it very gratifying to realize that after 10 years that we've created a truly viable professional organization that is providing a very valuable educational experience to students."
Keynote speaker Kathleen Giacomini, professor of biopharmaceutical sciences at the University of California-San Francisco, will be the conference's keynote speaker.
The Globalization of Pharmaceutics Education Network was founded in 1996 by KU's pharmaceutical chemistry department.
Copyright 2018 The Lawrence Journal-World. All rights reserved. This material may not be published, broadcast, rewritten or redistributed. We strive to uphold our values for every story published.