Nick Collison declined an offer to dine on tasty Kansas City barbecue Saturday night in the Seattle SuperSonics' team headquarters - the Marriott Hotel in Kansas City, Mo.
"Nick wouldn't come eat because it was served in the 'Missouri room,'" Seattle coach and former Kansas University assistant Bob Hill said of a meal provided by Sonics point guard Earl Watson, who was born and raised in K.C.
Kansas University Jayhawks now and forever - with a intense hatred of rival Missouri - Collison and former KU teammate Kirk Hinrich were mighty happy to be back in Kansas for Sunday's NBA exhibition between the Sonics and Chicago Bulls in Allen Fieldhouse.
The two were accorded standing ovations during pre-game introductions and supported throughout. Hinrich netted 11 points with four assists and Collison 12 points and 10 boards in the Bulls' 110-105 overtime victory.
"It was great. I was almost emotional (during introductions)," said Collison, who didn't play in the fourth quarter or overtime because of leg cramps. "It's weird. I usually don't get like that, but it was great to see all the fans and hear them cheering like that. It brought back a lot of great memories. I had a lot of fun playing here."
Hinrich, a point guard, hit one of two three-point attempts in the contest. Collison, a power forward, answered with a three of the most unusual variety.
The 6-foot-9, 255-pounder lofted a straight-on alley-oop pass to Ray Allen, the ball dropping through the hoop to the delight of the 12,758 fans.
"It was my second three," fourth-year pro Collison said. "The other one was from three-quarter court in the playoffs. I've gotten lucky on the only threes in my career."
Photo Gallery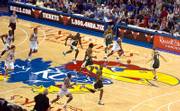 Bulls vs. Sonics at Allen Fieldhouse
The fans were so behind Collison and Hinrich on Sunday, they booed after the first two plays of the game - a foul called on Hinrich, then one whistled on Collison.
"I appreciate the fans," Hinrich said. "They are diehards, the best fans in the world because they are so into it. I appreciate them a lot more than they appreciate me probably."
Collison added: "They are the best fans in the world. They really are, and they were again today."
Collison's first bucket in his return trip to the fieldhouse came just 1:42 in, on a driving shot in the paint. Hinrich's first bucket was a three with 9:19 left in the first quarter.
"It was probably the most exciting preseason game I've ever played in," Hinrich said. "For that many fans to show up is great."
Hinrich is still the quick-dribbling leader of the fast break he was at Kansas. Collison's game has changed some - he hit some outside jumpers on a day he and Hinrich had identical 5-of-9 shooting lines.
"In the NBA, guys are so big, I've had to move out and hit some perimeter shots," Collison said. "You are not the focal point any more. It takes a lot to adjust to be effective (in NBA)."
Collison broke into a sheepish grin when asked about a malady he shared in both college and the pros.
Cramps.
"I started to have visions of the Maui Invitational in my head," he quipped of the painful cramps which were no laughing matter when KU lost to Ball State in the first round in 2001 in Hawaii.
"I caught a little one today. I felt another one coming on. I could have kept playing, but it was about up for my minutes anyway."
He and Hinrich both played 27 minutes. Neither were on the court down the stretch or in the overtime, which was forced when Bulls rookie Tyrus Thomas hit a game-tying baseline jumper with 5.1 ticks left.
Luke Schensher and Andre Barrett combined for 10 points in OT as the Bulls outscored the Sonics, 12-7. Thomas finished with 13 points and eight boards. Ray Allen had a game-high 22 points for Seattle off 7-of-11 shooting in just 23 minutes.
"It was a pretty sloppy game. We had 29 turnovers," Collison said. The Bulls had an unsightly 21 bobbles. "It was a lot of fun, though. Before the game I saw the (Jayhawker) Towers. I was thinking about how I used to walk from there to the fieldhouse for the game. It gets you excited about the game."
He used to make the short walk from the dorm with fellow Iowan Hinrich. The two didn't get a chance to visit much Sunday.
"It's fun just to see Nick," Hinrich said. "We've been linked throughout our careers, both being from Iowa and being roommates here."
"I talked to him last night a little bit," Collison said.
In fact, needing to hurry to catch up with Hinrich and some other friends and family members is another reason Nick didn't eat the team meal in the hotel on Saturday night.
"I had to go meet some friends. It was just a joke more than anything," Collison grinned.
Copyright 2018 The Lawrence Journal-World. All rights reserved. This material may not be published, broadcast, rewritten or redistributed. We strive to uphold our values for every story published.