Before Sunday's NBA exhibition game, Ray Allen never had been to Allen Fieldhouse.
He said the atmosphere reminded him of a familiar place - the University of Connecticut, where Allen was a two-time All-American in the 1994-95 and 1995-96 seasons.
"Just the tradition," Allen said. "You see people, and it seems as though they've been around a long time, and they've watched a lot of great players come through the program."
Allen said despite Sunday being his first appearance on Naismith Court, he noticed Kansas and Connecticut had similar athletic atmospheres when he looked around before the game.
"You see a lot of banners in the building, so there's a lot of history," Allen said of the fieldhouse. "It's no different at Connecticut. You watch a lot of big games - men and women."
In visiting Lawrence, Allen said forward Nick Collison didn't mention anything different about the town.
"Nick's not a big talker," Allen said. "He just goes out and does his job. I'm glad to have him on our team."
Allen, a six-time NBA All-Star, gave the Jayhawk faithful someone to cheer for other than Collison and Chicago guard Kirk Hinrich. Allen scored 22 points.
Photo Gallery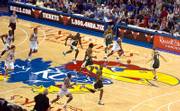 Bulls vs. Sonics at Allen Fieldhouse
Oh yeah, he also sat out more than half of the game.
Seattle coach Bob Hill played Allen only in the first and third quarters Sunday. Chicago defeated Seattle, 110-105 in overtime, but Allen didn't see the court for the final 17 minutes.
"This is all practice," Allen said. "We're just going out trying to get in sync. I know I can score, but it's the other stuff we have to work on, like getting defensive chemistry out there."
Allen said he would have liked to be on the court during the overtime period to try to win the game. But he said that wasn't the focus of an exhibition game.
"In these situations, we don't want to try to take this away from the guys that are trying to make the team," Allen said. "Most of the starters have been in that situation before, so coach knows how we're going to perform."
Some players might have been trying to make the team, but it's obvious who will lead the Sonics this year. Allen looked like the best player on the floor Sunday.
He started quickly and notched 12 points by the end of the first quarter. Allen scored most of his points from screens set by Seattle post players. He started many offensive sets on the baseline and curled sharply around screens and into open spots on the hardwood. Once Allen got his shoulders square to the basket, he rarely missed. He was 7-of-11 from the field, 6-of-6 from the free-throw line and 2-of-3 from three-point range.
Scoring, particularly from beyond the arc, is the strength of Allen's game.
Allen is second in NBA history in three-point field goals made, with 1,755.
Seattle finished last season 35-47, third in the Northwest division, behind Utah and Denver. This season, look for Seattle to play an up-tempo style of basketball, where it runs the fast break early and often. Allen, along with his 25.1 points per game from last season, plans to lead this effort.
"We're not going to stray far from that," Allen said of Seattle's playing at a fast pace. "We can score. That's not an issue."
Copyright 2017 The Lawrence Journal-World. All rights reserved. This material may not be published, broadcast, rewritten or redistributed. We strive to uphold our values for every story published.