Outside of that big, big detail - his team didn't win - Kansas University quarterback Kerry Meier seemed content with his first Saturday on the football field in a month.
And even more important, he felt healthy.
"I felt fine," Meier said after KU's 42-32 loss to Oklahoma State. "Three weeks off, I think it was worth it. I think I could've made it back in two weeks, but another week off I think paid off. I'm thankful for it, and I feel good right now."
Meier missed the last three games because of a shoulder injury, but returned Saturday to complete 15 of 27 passes for 187 yards and three touchdowns. He also had 20 carries for 70 yards, often taking matters into his own hands since Oklahoma State was keying on running back Jon Cornish.
Maybe more important than anything, though, was that Meier threw just one interception - and it was a good play by OSU linebacker Patrick Lavine.
"It was a pretty good day for him," KU coach Mark Mangino said of Meier. "No question that he made some good plays. He made some mistakes, but I'll be honest with you, we got some points on the board."
Photo Gallery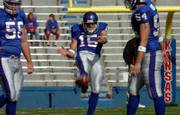 KU vs. OSU
Meier was medically cleared to play Oct. 3, but still wasn't ready for KU's game against Texas A&M.; His last action was against Toledo, when he passed for 243 yards and two touchdowns. But he also threw four interceptions, which might have been his bugaboo early in the season.
"Stuff that got me earlier in the season, I think I learned from it and executed this time," Meier said.
Meier's return also gave Kansas a surge in red-zone opportunities. A problem the last two weeks, the Jayhawks converted perfectly inside the 20 against the Cowboys - three trips, three touchdowns. The scoring passes were to three different receivers - 33 yards to Marcus Herford, four yards to Derek Fine and eight yards to Dexton Fields.
"Kerry played well enough to win the game," Mangino said. "We just didn't take care of business."
Copyright 2018 The Lawrence Journal-World. All rights reserved. This material may not be published, broadcast, rewritten or redistributed. We strive to uphold our values for every story published.