Kleena Heuer can't understand all the fuss about her apparel.
The blue T-shirt she wears around town - with "HAWK FOOTBALL" spanning the chest in white block letters - simply gives the Kansas University student a chance to support her school's team, enjoy a little comfort and look good in the process.
"I don't know what the big deal is," she said.
If only it were that simple.
Heuer's cotton shirt and dozens of others in a variety of styles are at the heart of a lawsuit pitting KU and its athletics department against a Lawrence company that was formed to work outside of the university's control.
KU is suing the company, Joe-College.com, for designing, printing and selling shirts that the university says infringe upon, dilute and unfairly compete against properly licensed products endorsed by the school.
The university also argues that the company's products - such as an athletic-looking T-shirt with the words "Kansas Swim Team" printed around a depiction of three individual sperm - tarnish and degrade the positive and prestigious connotations that the school's symbols and programs have been nurturing for decades.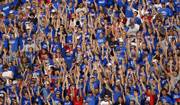 KU wants a federal judge to order Joe-College.com to stop such business, impound and destroy all of the offending merchandise and pay damages to the university.
Without a court order, KU says, the company will continue such "misconduct" that deceives consumers and leads to confusion in the marketplace.
"It's very important for us to protect the university's marks," said Jim Marchiony, associate athletics director for Kansas Athletics Inc., who declined to discuss details of the case. "We think they are infringing on our marks and our goodwill, and they are trying to make it look like the products are endorsed by the University of Kansas."
'Mumbo jumbo'
Larry Sinks, who owns Joe-College.com, vehemently denies treading on KU's proper trademarks. His store at one point did sell one shirt style that included a silhouette of a Jayhawk, but that product has since been pulled.
These days the store is dominated by shirts with sayings that may - or may not, depending on your perspective - make reference to KU athletics:
¢ "OUR FOOTBALL COACH IS PHAT"
¢ "LAWRENCE, A DRINKIN' TOWN with a BASKETBALL PROBLEM"
¢ "KANSAS DRINKING TEAM"
¢ "HAWK BASKETBALL"
Sinks himself doesn't let on that he's worried about the lawsuit.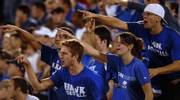 "It doesn't say 'Jayhawk'; it says 'Hawk,' " Sinks said. "It could be Olathe (East High School). It could be anybody. : The lawsuit's a bunch of mumbo jumbo.
"To me, it just translates to, basically, that since we have a clever store and we're selling fun shirts, they can't stand it. It's like I took their kickball and ran home with it."
Sinks maintains that KU is trying to prevent him from asserting his First Amendment rights to free speech. Specifically, he said, Kansas Athletics wants to charge him for using words, like "Kansas" and "Hawk," that should be free to anyone who wants to use them.
The fact that he's printing the words on the same blue color that KU has made a cornerstone of its athletics uniforms, licensed products and even university stationery shouldn't matter, he said.
"It's a stock Fruit of the Loom color," Sinks said. "They're telling me I can't use a standard color? They say I'm making money off the university, but guess what? So is every other business in Lawrence, Kansas."
$1 million royalties
When it comes to using the Jayhawk or other recognized "marks" of the university, businesses are supposed to pay licensing fees that benefit the university. A year ago, KU took in nearly $1 million in such royalties, the direct proceeds from what has become a $2.8 billion industry for all U.S. colleges and universities - selling apparel and other licensed merchandise.
Sinks said that he would be more than willing to pay such fees, if only KU would allow him to do so. Sinks previously owned Midwest Graphics, a KU licensee that once collaborated with the athletic department; Sinks' Midwest Graphics designed and printed the original "Late Night with Larry Brown" T-shirts back in the 1980s.
The relationship eventually soured. In KU's lawsuit, the university asserts that Sinks was denied a license for a subsequent business, Victory Sportswear, because of Sinks' "past compliance history."
Sinks, in a counterclaim filed in U.S. District Court in Kansas City, Kan., argues that KU has been unfair to him. In 2005, he said, KU officials and Kansas City police confiscated "MUCK FIZZOU" shirts that some of Sinks' employees had been selling outside Kemper Arena.
Sinks doesn't expect KU to license such shirts, just like he doesn't see any reason why the school should worry about his current line of products for sale on Massachusetts Street or online.
Seeking clarity
"None of our shirts are licensed by the University of Kansas, nor are they intended to be associated with the University of Kansas," Sinks said. "We can't be any more clear about it."
Marchiony, the KU associate athletics director, declined to discuss details of the case. Instead, he opts to let the suit speak for itself, offering a simple response to address Sinks' assertions.
"We disagree," Marchiony said.
Copyright 2018 The Lawrence Journal-World. All rights reserved. This material may not be published, broadcast, rewritten or redistributed. We strive to uphold our values for every story published.