Kansas University is nearing completion of the $57.2 million Biomedical Research Center at a time when many are bemoaning the challenges of bringing in federal biomedical research funds.
"The faculty feel that this is a difficult time," said Paul Terranova, professor and senior associate dean for research and graduate education for the medical school. "We have to try harder. We have to be smarter. : Persistence is the key."
KU next month will begin moving in the new center, a 205,000-square-foot research complex on the KU Medical Center campus in Kansas City, Kan. It opens officially in January.
KU officials laud the five-story facility at the corner of 39th Avenue and Rainbow Boulevard as a state-of-the-art center that will foster interdisciplinary research.
Its layout and new equipment should spur more high-quality research and collaboration, Terranova said.
"I think it's the synergism that occurs when people are close to each other doing interdisciplinary research in a related area," he said. "They get together and talk about new concepts and new ideas and then go out and apply for new grants."
Research
About 55 researchers initially will share the building, with several floors dedicated to specific areas, including liver disease, reproductive sciences, neuroscience and proteomics, the study of proteins.
The liver program will investigate the effects of toxins and alcohol on the liver and explore what causes liver damage and how to prevent or block it.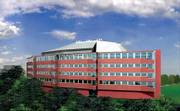 The reproductive sciences program will work on fertility and infertility in men and women.
And the neuroscience unit will study such maladies as diabetes and diabetic neuropathy, the damaging of nerves that leads to loss of motor function and other problems for diabetics.
About 20 percent of the researchers were recruited specifically to work in the new facility, Terranova said. The mix of junior and senior faculty will bring with them about $58 million in grant funds.
And getting renewed funding will be key to working in the building.
"If funding is not continuing to come forth, then they either collaborate with others or other individuals are selected," Terranova said.
Federal funds
The building comes at a time when many are concerned about the increased difficulty of winning grants from the National Institutes of Health, the largest single source of academic research funds in the U.S.
NIH's budget doubled from 1998 to 2003, but that growth has since leveled off.
The 2006 fiscal year saw the first actual decline in NIH's budget in years, and there may be another drop in the next budget, said Kei Koizumi, director of the R&D; Budget and Policy Program for the American Association for the Advancement of Science.
The $57.2 million Biomedical Research Center will have 80 laboratories. Research areas include liver disease, reproductive sciences, neuroscience and proteomics, the study of proteins.
In times of plenty, institutions beefed up their biomedical research efforts, planning buildings like KU's, Koizumi said.
But in tight times, with grants tougher to get, the challenge is on for institutions and researchers to obtain the funding needed to pay for research and the space in which to do it.
"It is a bad time to be opening a lot of new lab space," Koizumi said. "There's a whole lot of new lab space that is coming online. : It could be a crisis in the making for many universities that overbuilt."
How can you tell if a university is overbuilt?
"You know if you can't fill the space," Koizumi said.
Staying competitive
KU's new center uses a $27 million gift from the Hall Family Foundation.
Beginning in January, the state will pay for the first five years of the construction bonds. That will cost the state about $5.6 million per year, Terranova said.
For one year, interest on the bonds will cover the payments on the building. KU Medical Center will pick up the payments in 2012 and cover the remaining 15 years, using funds generated by research grants.
Some tied to the new center say they're not too worried.
"We know that we should be without a doubt making those mortgage payments," Terranova said.
He said funds from NIH increased 20 percent in 2006. He said faculty scrutinize their grant applications to "make sure they're essentially perfect" before they are submitted. And, he said, the key is to increase the number of grant applications.
Peter Smith, professor of molecular and integrative physiology and leader of the center's neuroscience unit, said NIH's budget growth led to more, bigger grants that bogged the agency down when the funding leveled out. He said he expects better times ahead.
"As we begin to move away from those existing commitments, it frees up money for new grants," he said.
Copyright 2018 The Lawrence Journal-World. All rights reserved. This material may not be published, broadcast, rewritten or redistributed. We strive to uphold our values for every story published.