No sacks, 574 yards of total offense, two 80-plus-yard drives in the stamina-testing fourth quarter - and center David Ochoa doesn't feel rewarded by the offensive-line play against Nebraska?
"The biggest thing for us is that we always strive to score more points than the other offense," Ochoa said, "and we didn't do that."
Talk about being your own worst critic. The linemen do have it straight - the one stat they keep track of is the most important one - and Kansas University's football team ultimately didn't come out on top, falling 39-32 to the Huskers last week in overtime.
But nobody else pointed a finger in the direction of the offensive line - made up of Ochoa, Cesar Rodriguez, Bob Whitaker, Travis Dambach and Anthony Collins.
"Nebraska brought a lot of pressures, a lot of different pressures for the most part in both the run game and the pass game," KU coach Mark Mangino said. "They handled it very well. There were some areas that need shored up here and there. But overall, a very good performance by the offensive line."
And very good offensive statistics give Mangino's claim instant merit.
Not even No. 2 Southern California put up the numbers Kansas did against the Huskers - and last week's game was at hostile Memorial Stadium in Lincoln, Neb.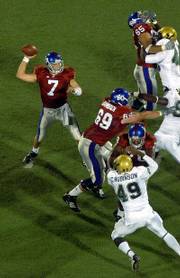 With so much experience - the five first-teamers at KU have 108 career starts to their credit - expectations were high for this year's line. And while offensive productivity hasn't been a problem with KU averaging nearly 30 points per game, neither Ochoa nor line coach John Reagan has been 100 percent satisfied.
"I think probably the thing I'm most aware of is that we haven't necessarily been as consistent in any part of the game as I'd like us to be," Reagan said. "At times, our pass protection is pretty good, and at times, I'm not real excited. I'm certainly not excited about giving up sacks, and we've done that a few times this year.
"I think you can't be one-dimensional, so we're striving to be good in both areas."
Both areas - run and pass - certainly had nice moments last week. Adam Barmann threw for 405 yards and was sacked only on a two-point conversion attempt, one week after good protection helped him pass for 273 yards against South Florida.
Cornish, meanwhile, was taken down behind the line several times, but still rumbled for 145 yards on 31 carries with a touchdown. It was his fourth 100-yard rushing game of the year in five starts.
KU's next opponent, Texas A&M;, is led defensively by tackle Red Bryant and linebacker Justin Warren, two NFL prospects. The Aggies' defensive line has weights of 267, 324, 295 and 271 pounds - one of the beefiest in the Big 12 Conference.
But Kansas keeps giving better performances up front, and it's showing on the stat sheet. Ochoa, though, knows that a decrease in performance would be just as glaring - and Big 12 defenses wouldn't let them get away with it.
"I think it's getting better, and that's the biggest thing," Ochoa said. "The thing about offensive-line play is that it may look good, but there's certain things that we need to do well to have success. Sometimes we've done those things, and other times we haven't.
"We need to keep improving our performance. We can't take any steps back on the offensive line, because it sets the team back."
Copyright 2017 The Lawrence Journal-World. All rights reserved. This material may not be published, broadcast, rewritten or redistributed. We strive to uphold our values for every story published.