Takao Shibata helped negotiate the Kyoto Protocol. He's helped lead Japanese embassies in Sweden, Nigeria and Zimbabwe.
Now he's sharing his experiences with Kansas University students.
"He can help so much in bringing international dimensions to many classes," said Felix Moos, KU anthropology professor. "I think this is an excellent way for KU to internationalize our programs."
Shibata, former consul general of Japan in Kansas City, Mo., is KU's chancellor's lecturer for this academic year. KU created the position specially for Shibata, said Jeff Weinberg, assistant to the chancellor.
Shibata is giving lectures, speaking to classes and meeting with students. He will be on campus, living in the chancellor's guest house, until mid-October and return for a stint from January to mid-March.
"It's a great experience for me," Shibata said. "I'm basically sharing my experience of being a Japanese diplomat with students."
Shibata attended universities in Tokyo and Sweden. He was consul general of Japan in Kansas City from 2002 to 2004.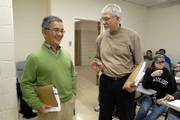 But his resume includes jobs around the globe. He was a senior manager for the International Fund for Agricultural Development from 1999-2001. He was deputy chief for the Japanese Embassy in Zimbabwe in the late 1990s. And he was chairman of the drafting committee of the language of the Kyoto Protocol.
At KU, he has spoken about China/Japan relations, North Korea and the Kyoto Protocol.
"He has tremendous amounts of knowledge and expertise on some of the huge issues of our day," said Bill Tsutsui, a KU history professor whose interests include modern Japan and U.S.-Japanese relations.
Moos, who helped bring Shibata to KU, said he would like to see KU start a program to bring international diplomats to campus, a move he believes could help bring in outside funds to support such visitors. He said Shibata is a tremendous asset to the university.
"It's a wonderful opportunity to broaden our horizons," he said. "We desperately need it."
Shibata's visit is sponsored by the chancellor's office, the College of Liberal Arts and Sciences, the Center for East Asian Studies and the Center for International Business Education and Research.
Weinberg said the university would love to have Shibata return to campus for the 2007-08 academic year if Shibata enjoys his current visit.
"We'd love to have him back," he said.
Discussion
Shibata will discuss the Kyoto Protocol in an environmental economics class, at 8 a.m. Thursday in 403 Summerfield Hall at Kansas University. For permission to attend the lecture, contact Dietrich Earnhart at earnhart@ku.edu.
Copyright 2018 The Lawrence Journal-World. All rights reserved. This material may not be published, broadcast, rewritten or redistributed. We strive to uphold our values for every story published.