Kansas University football senior Eric Washington is expected to return to Lawrence today after spending two nights in a Lincoln, Neb., hospital.
Washington lost feeling in his extremities after a third-quarter tackle of Nebraska running back Marlon Lucky in the Jayhawks' 39-32 overtime loss to the Huskers on Saturday. He was motionless on the turf for 10 minutes before being wheeled off on a stretcher.
"He has no paralysis. He has full use of his extremities," KU coach Mark Mangino said Sunday. "His legs are a little weak, but according to our medical staff and the people that have worked with him in Lincoln, he will have a full recovery. No serious, critical injury to him."
Mangino even said that the possibility exists for Washington to return at some point this season, though it won't be anytime soon.
Washington was supposed to return to Lawrence on Sunday, but it was delayed because in situations like Washington's, doctors like to start medical therapy, and they weren't able to until early Sunday morning because he was admitted late Saturday night.
Mangino didn't disclose Washington's exact diagnosis, except to say, "He's definitely got a concussion."
Red-shirt freshman Arist Wright, who has played primarily on special teams, replaced Washington on Saturday. He's not a lock for Washington's starting spot, though. Sophomore James Holt gradually returned to action Saturday after missing six weeks because of a foot injury.
Holt was on top of the depth chart after April's spring game.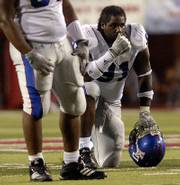 "We're working both of those guys at this time," Mangino said. "We don't know. We've just got to work them and get them into the game plan. I think both are capable."
¢ Duncan out: Linebacker Brandon Duncan did not make the trip to Nebraska on Saturday and isn't expected back on the field soon.
"He's injured, and he's going to be out for a while," Mangino said.
Mangino didn't disclose what the injury was, but said it was more serious than originally thought and may have worsened when Duncan tried to play through it against South Florida.
¢ Stepping up: Defensive end Russell Brorsen made his first start on defense Saturday and put together a solid performance.
Brorsen, a tight end last year, had six tackles - including a sack - as well a forced fumble and fumble recovery against the Huskers. He started over Rodney Allen and split time with Allen throughout the game.
"He's a guy you can use in a variety of ways in a variety of different packages," Mangino said. "He's been coming along at a good place and he played well last night."
¢ Meier update: KU continues to monitor the right shoulder of freshman quarterback Kerry Meier.
Meier wasn't medically cleared to play in the last two games because of the injury, which he suffered in the fourth quarter of the Toledo game. After not participating in warmups against USF, Meier did throw the ball before the Nebraska game, though he wasn't an option to play.
"He tells me today he feels a lot, lot better," Mangino said Sunday. "It's a situation where the medical staff will have to make a clearance on him, and he's got to be able to prove that he can do everything asked of him with a full range of motion."
Copyright 2018 The Lawrence Journal-World. All rights reserved. This material may not be published, broadcast, rewritten or redistributed. We strive to uphold our values for every story published.