Lawrence High showcased its winter sports Monday night while entertaining the fans, students and parents who filled the basketball gymnasium during "Rock The House."
"It was a take-off from 'Late Night With KU,'" said LHS athletic director Ron Commons.
The event, however, wasn't just revelry. The girls and boys basketball squads each scrimmaged for a 15-minute session, officiated by referees. On the girls side, junior Danielle Bird led all scorers with eight.
"I just tried to be fair and give everybody the ball," Bird said. "We had a lot of team effort. We played as hard as we could."
Danielle's sister, Taylor, a sophomore, ran the offense effectively from the guard position while scoring five points. Tania Jackson and Lindsey Murray added six each.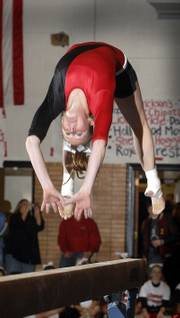 All of the girls sported magic-marker tattoos as part of the team's pre-scrimmage performance with the cheer squad.
"That was for our little dance that we did," Danielle Bird said, "our little gangsta' dance."
The LHS boys started their scrimmage slowly with neither team scoring in the first 51â2 minutes.
Senior Chance Riley, who led all scorers with four points, attributed the shaky beginning to a case of jitters.
"It's just the nerves," Riley said, "the first time in front of a crowd."
Before their scrimmage, the boys conducted a dance skit to the theme of "Grease." The boys wore jeans and white undershirts, while the cheer squad wore poodle skirts. All showcased some nifty dance steps, which the basketball players had practiced for two days.
"I got all the moves," Riley said with a smile.
The entire winter sports slate performed for the audience. Swimmers, divers, wrestlers and bowlers competed in a relay where they had to score lay-ups while wearing boxing gloves. Fans in attendance drew for prizes, including a $250 gift certificate to Best Buy. The teachers participated as well, competing in dodgeball while wearing costumes.
A public-address announcer introduced every member of each sports and pom and cheerleading team. To further showcase its sport, the wrestling team displayed some moves in a tag-team match that would not seem to fly during Sunflower League competition.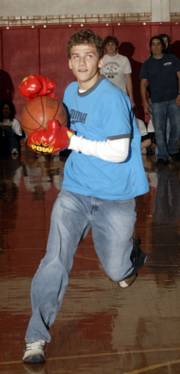 "We wanted to show the school what real wrestling was all about. None of this Olympic wrestling - WWE has it right," said senior Brandon Holland, who donned a black cape as part of his attire. "I was going with the mysterious action-hero guy with the American socks and the classic Chuck Taylors."
Besides a chance for the athletes to display their acting, dancing and singing chops, the night's events had another purpose. Each of the LHS teams has now played in front of a crowd, which will prepare them as the winter sports season begins this week.
"Now we know how it feels to play in front of people," Riley said. "We'll come out next week and start hitting more shots."
Copyright 2018 The Lawrence Journal-World. All rights reserved. This material may not be published, broadcast, rewritten or redistributed. We strive to uphold our values for every story published.