The driver of the Cat Tracker fan bus involved in a fatal accident Nov. 18 had three DUI convictions and was driving on a restricted license.
Brent Simonsson, 41, of Wamego, was driving the bus to the Kansas-Kansas State football game when Shawnee resident John Green, 27, and Salina resident Christian Orr, 34, struck the Irving Hill Road overpass in the 1700 block of Iowa Street.
Both Orr and Green were standing on the upper deck of the bus when their heads hit the bottom of overpass, according to the accident report.
Green was pronounced dead at the scene. Orr remained in critical condition Monday at Kansas University Hospital in Kansas City, Kan., hospital officials said. Orr has undergone surgery to relieve swelling on his brain.
Lawrence Police submitted an investigative report on the accident Monday afternoon to Douglas County District Attorney Charles Branson.
Branson said the case will be reviewed before any possible criminal charges are filed.
Photo Gallery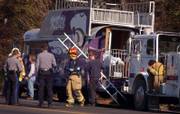 Pre-game fatality accident
According to the accident report, Lawrence Police said Simonsson did not comply with restrictions on his driver's license at the time of the accident.
The Kansas Department of Revenue restricted Simonsson's driver's license after he failed a blood alcohol test in November 2003 in Riley County, court records show.
That felony DUI case later was dismissed, and Simonsson filed a suit against the Department of Revenue to overturn the license restriction.
The lawsuit alleged that the Riley County Police Department destroyed video footage of Simonsson's 2003 DUI arrest according to the department's "tape retention policy," court records show.
Court records did not indicate what restrictions the department put on his license, although it is common to restrict driving except for work-related reasons in such cases.
Riley County Judge Meryl D. Wilson on Feb. 9, 2005, upheld the license restriction, which took effect 10 days later.
Simonsson also has three DUI convictions. Court records show he was convicted of DUI in 1994 in Leavenworth County and in 2000 WaKeeney.
Simonsson also was convicted of DUI in 1996 in Ellis County, according to Kansas Bureau of Investigation records.
Lawrence Police have not released results of a toxicology report prepared after the Cat Tracker accident.
Simonsson's attorney, Pedro Irigonegaray, did not return calls seeking comment. The owner of the bus, Manhattan attorney and developer Robert Pottroff, also did not return a call Monday.
Copyright 2018 The Lawrence Journal-World. All rights reserved. This material may not be published, broadcast, rewritten or redistributed. We strive to uphold our values for every story published.