Two men were standing on the top porch of the double-decker party bus when it went below an overpass on the way to the Kansas-Kansas State football game Saturday, police said Monday.
One man died and another was critically injured when their heads struck the bottom of the overpass in the 1700 block of Iowa Street. They had been riding atop the Cat Tracker K-State fan bus, which was carrying 22 people, ages 7 to 66, from various Kansas towns, according to a police report released Monday.
Police identified the deceased man as John P. Green, 27, of Shawnee. The other person injured, 34-year-old Christian D. Orr of Salina, remained in critical condition Monday at University of Kansas Hospital in Kansas City, Kan., where he underwent surgery to relieve swelling on his brain.
"This is unusual as much as it is tragic," Lawrence Police spokeswoman Kim Murphree said Monday.
Orr and Green were two of the eight people riding on an open deck atop the northbound bus when they hit the underside of the overpass at Irving Hill Road. Joe Blubaugh, a Kansas Department of Transportation spokesman, said the 15-foot-high overpass met standards for height clearance and signage.
The Cat Tracker, privately owned by Manhattan attorney Robert Pottroff, is well-known among K-State fans.
"When it arrives, it becomes a congregation spot, especially for road games," said Brian Gates, 34, of Beloit, one of the people who was riding on top of the bus when the wreck happened.
Gates said the bus had made a few stops before arriving in Lawrence to pick up riders. When the bus made it to Lawrence, a group of people climbed a ladder onto the roof, where there is no permanent seating. Gates said he couldn't go into details about the moments leading up to the wreck.
"I don't even want to think about it," he said.
He said he had just met Green that morning and was introduced to Orr.
Riding atop bus prohibited
Lawrence Police said Monday that it's illegal for someone to stand on top of a bus while it is in motion. State law and local traffic ordinances make it illegal "to ride on any vehicle or upon any portion thereof not designed or intended for use of passengers when the vehicle is in motion," or for a driver to allow anyone to ride there.
The law makes exceptions for some employees and for sanctioned parades or special events. City prosecutor Jerry Little said he didn't know of a reason that a bus such as the Cat Tracker would fall under an exception.
"I'm not aware of anything that would allow it," Little said. "We've issued citations for people riding in the back of a pickup, but I don't recall any situation where someone has been riding on the top of a bus that has seating there."
Lawrence Police did not write any tickets at the scene, but they are preparing a report to send to the district attorney's office for review of whether any charges should be filed.
Driver identified
The bus was driven by Brent Simonsson, 41, of Wamego, who was tested for impairment afterward. Toxicology results are pending, according to a report.
"I know that the first concern of everyone involved is for the well-being of Mr. Green's family and for the well-being of Mr. Orr and his family," said attorney Pedro Irigonegaray of Topeka, who represents Simonsson. "We are still in the fact-gathering process, and as you can imagine, there are a lot of considerations in this case that need to be looked through carefully."
Photo Gallery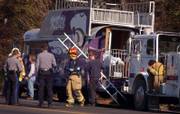 Pre-game fatality accident
Irigonegaray said he couldn't talk about details of how the incident happened. He said Simonsson "is experiencing the type of personal difficulties that anyone who is involved in a situation like this would experience. This is a huge loss."
As of Monday evening, more than 300 people had joined a group titled "In Memory of the Cat Tracker" on the social networking Web site Facebook.com. A message on the site indicated that Green had a wife who is eight months pregnant and that a fund was set up to raise money for her. Organizers of the page did not return e-mailed messages seeking comment Monday evening.
'A very serious injury'
Hays resident Casey Edmonds, 28, was riding on the rear deck of the bus when the accident happened. He said the atmosphere on the bus was subdued and sober.
"My experiences with it are far from what I'd consider rowdy," Edmonds said. "It's not a big drunk fest at all."
Edmonds did not know the two victims, but he said he rode the bus often to K-State football games. On Saturday, he caught the bus in Lawrence and rode with several members of his extended family.
He wouldn't discuss what he saw when the accident happened, but he said that the children on the bus, including several of his relatives, were ushered away from the scene almost immediately.
"They don't know too much about what happened," he said.
Orr's family released a statement Monday saying he would remain at the hospital for an undetermined amount of time.
"This is a very serious injury, but we know the doctors here are doing all that they can to help Chris recover," the family said in a statement. "We remain hopeful that Chris will be able to overcome these injuries and go home with his family soon."
- Laura McHugh and Ron Knox contributed information to this report.
Copyright 2017 The Lawrence Journal-World. All rights reserved. This material may not be published, broadcast, rewritten or redistributed. We strive to uphold our values for every story published.