For the Lawrence High swimming and diving team, Free State swimming coach Annette McDonald is referred to as the "other coach McDonald."
The reason is the Lions' new head coach. Lawrence High boss Kent McDonald - who served as an assistant coach for LHS the last two years - is married to Annette.
"She's already let me know that I can't look at her lineups before meets so that I can't place my people in strategic events," Kent McDonald said. "And she's really worried, since I'm so competitive, that I'm going to kind of rub it in if we ever win. Some day we'll beat her, I know. And when that day comes, I've got to really control myself - she's already told me. It's really good because we're sharing the same things even though we're on different teams."
Though Annette said she knows her husband has a competitive personality - a lot more competitive than hers - she said she thinks that he'll be able to control his emotions.
"He's a real teaser, and he does like to rub things in your face - and I'm not," Free State's coach said. "He'll say, 'Good job,' and I'll just say, 'Thanks.' It's never like, 'Ha, I got you.' I'm not like that, and that's kind of his personality when he wins, kind of boastful. And he says since I'm helping him out he'll know I'll compliment him, but at the same time I don't want to have my face rubbed in it - and I don't think he will."
The head coach isn't the only newcomer to the LHS swimming and diving coaching staff. Kristin Tirabassi was hired as the diving coach, although most of her experience comes from the swimming side.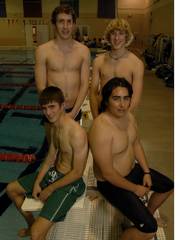 "I've been a swimmer my entire life. I've been around the diving realm for the last six years - from high school and swimming at KU for two years," Tirabassi said. "And so I knew a lot of divers so I kind of have, not as much of an edge as somebody that's dove has, but I have an idea of what we need to work on."
The LHS divers haven't had too tough of an adjustment from losing former head coach Ryan Adams, whose emphasis was in diving.
"(Tirabassi) has only done swimming, so we're practically coaching ourselves right now," Skyler Criswell said. "The pointers and such that I learned from (Adams) last year I've been using a lot this year to help coach myself in remembering what he told me."
While Free State doesn't have to adjust to a new coach, the Firebirds are in unfamiliar territory with having a smaller-than-normal roster of swimmers. Because of that, diver Todd Lee said the team will have to be prepared when they face the Lions.
"I remember my freshman year, Kent McDonald was an assistant coach for the Free State team, so I know that he's going to make them a really competitive team with us this year - especially since we are a bit of a smaller team this year," Lee said. "So we're just going to have to be that much better this year to really compete with that.
"And make no mistake, when we wrote up our goals, every single goal was 'Beat LHS every meet.'"
Tirabassi, who is a native of Buffalo, N.Y., said the addition of the spousal rivalry to the cross-town rivalry will make for an entertaining first season as a coach at Lawrence.
"I think that's really cool and think that makes it even that more bigger in the rivalry aspect of them being husband and wife and then the two different high schools in the same town," Tirabassi said. "I think that's really awesome and should make for a fun atmosphere, make the meets really competitive and hopefully the swimmers and divers will notice that and do really well."
Copyright 2018 The Lawrence Journal-World. All rights reserved. This material may not be published, broadcast, rewritten or redistributed. We strive to uphold our values for every story published.