Photo Gallery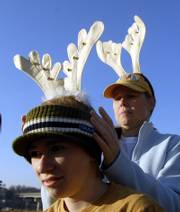 Thanksgiving Day 5K Run
About 400 people started Thursday's holiday with a run in North Lawrence.
They participated in the annual Thanksgiving Day 5K run through some Lawrence streets before reaching the end on the Kansas River levee.
The number of runners participating this year was double the number last year, said Dee Boeck, an event organizer from the runLawrence Club. The club started the run two years ago with 100 runners, she said.
The run, which began at 8:30 a.m., provides an activity for families to participate in before the traditional Thanksgiving dinner, Boeck said.
"It makes you feel less guilty about eating a big turkey dinner," she said.
One participant was Lance Rupert, of Lawrence, who finished third in the 30-34 age group: "I'm training for a marathon, and this was a good step toward that. I ran in this last year, and I want to keep up the tradition."
Taking first place for the men was Adrian Ludwig, of Lawrence, with a time of 15 minutes and 40 seconds. Natasha Roetter, of Boston, finished first among the women with a time of 18 minutes and 47 seconds.
The first-place runners received a $50 gift certificate from Francis Sporting Goods, 731 Mass. The top three male and female runners in each age group received handmade awards. Several businesses sponsored the event.
RunLawrence is a local running club that organizes a variety of races and runs in Lawrence.
- 6News reporter Deanna Richards contributed information to this report.
Copyright 2018 The Lawrence Journal-World. All rights reserved. This material may not be published, broadcast, rewritten or redistributed. We strive to uphold our values for every story published.