John Southard smoked a cigarette Thursday morning outside the Lawrence Interdenominational Nutrition Kitchen and patiently waited for Thanksgiving dinner to be served.
"The food is always great," the 49-year-old Lawrence man said.
Southard didn't have to wait long. At 12:30 p.m. - 30 minutes early - the food was ready.
"That's really good news for our clients who come in hungry," said Dianne Morgan, LINK coordinator.
About 250 people enjoyed their dinner at LINK, 221 W. 10th St., which during weekdays serves lunch to the homeless. The Thanksgiving meal, however, was open to anyone.
More than 30 turkeys, 100 pies and countless servings of rolls, sweet potatoes, mashed potatoes, gravy and green beans were ready to be devoured. The leftovers will be served for lunch today and Saturday, Morgan said.
"Anybody that needs a lunch can come on down," she said.
The food was donated, and Morgan estimated that at least 100 people working during the past few months made the meal possible. About 30 volunteers arrived at LINK at 9 a.m. Thursday to make final meal preparations. The turkeys were cooked and sliced Wednesday at Maceli's, 1031 N.H., Morgan said.
Overseeing the operation along with Morgan was chef Greg Moore.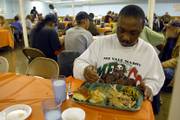 "They called and said, 'Hey, we need you,'" Moore said. "I was really glad to help out. I just think it's the greatest thing to do here. So many people benefit from it."
Cindy Vervynck was one of the volunteers helping prepare the food. Also assisting were her nephew, Chase Vervynck, 15, and niece Amanda Vervynck, 18. It was their second year to work as volunteers. All three said they probably would return to help next year.
"It feels good to do it, and I think it is very helpful," Cindy Vervynck said.
Southard said he was homeless for several years and came to know the LINK volunteers and the good food they serve.
"They were always the best servers at providing a meal," he said. "America should be grateful."
Copyright 2018 The Lawrence Journal-World. All rights reserved. This material may not be published, broadcast, rewritten or redistributed. We strive to uphold our values for every story published.