Two Kansas University graduate students from China received a taste of American holiday traditions thanks to an area family.
John and Patricia Solbach played host to a Thanksgiving Day feast for their family and Xiaoting Cui and Xin Zhao. They also gave them an opportunity to learn about rural life in Douglas County.
"We went fishing and made friends with two watchdogs," Cui said. "It was very interesting."
"The fish were very happy. We didn't catch anything," said John Solbach, who had taken the students to a spring-fed pond known to have a few trout swimming in it.
In many American homes, however, the main activity was eating, and it was no different at the Solbach farm near Stull. On the menu was the traditional turkey along with turnips, cranberry sauce, sweet potatoes, rolls, corn pudding and other food. Pie came later in the afternoon. The students said they enjoyed the food.
"Turkey is very rare in China," Cui said.
Both Cui and Zhao were experiencing their second Thanksgiving in the U.S. They are aware of the history of Thanksgiving. The closest thing in China to it is the celebration of the Lunar New Year, they said. Even it, however, is more similar to the American Christmas than Thanksgiving, they said.
"I think it's a very good day to get all your people your families together and have fun," Zhao said of Thanksgiving. "It's a time to relax."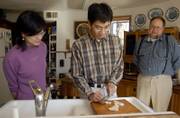 The Solbachs were participating in KU's Betty Grimwood Thanksgiving Homestay Program, which places foreign students with a family for the holiday. The program is coordinated by the International Student and Scholar Services office. Students have been placed with families throughout Kansas and in the Kansas City, Mo., area.
The program was started more than 50 years ago by the late Betty Grimwood, of Burns, who invited KU's foreign students to her home. In recent years, about 30 foreign students per year have been placed with families.
This was the Solbachs' second year for participating in the holiday program. They began after their son, Bart, became a KU student last year. Both John and Patricia Solbach said they made friends with foreign students when they were in college - John at Kansas State University and Patricia at KU.
"My roommate was from Germany, and we did our Ph.D.s together," Patricia Solbach said. "To this day, she is still my best friend. John was very active in the international community at K-State."
The students and the Solbachs said the holiday placement program is a great way for Americans and international students to learn about different lifestyles.
"We learn about your traditions and culture," Zhao said.
"I think it's an opportunity for students to visit an American home and be with an ordinary family," said John Solbach, a Lawrence attorney and former Kansas legislator.
There was only one downside to the holiday, according to Cui.
"If the university would give more days off it would be better," she said, smiling.
Copyright 2018 The Lawrence Journal-World. All rights reserved. This material may not be published, broadcast, rewritten or redistributed. We strive to uphold our values for every story published.