Photo Gallery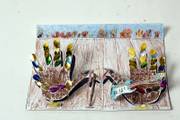 Hand turkeys
Two words: "Gobble!
Gobble!"
We had no idea when we issued a call last week for readers to create hand turkeys that we'd get such an enthusiastic response.
Nearly 100 of you traced your hands and then got to work with pens, pencils, crayons, glitter, fabric swatches, puff balls, scissors - even matchsticks - to gussy up your birds.
There were Elvis turkeys in polka dot jump suits; patriotic turkeys decked in red, white and blue; flirty turkeys with extra-long eyelashes; and a two-piece turkey band complete with a guitar, a microphone and a feathered fan club.
Needless to say, we were impressed by your inventiveness.
We selected a few unique submissions for today's paper and put the rest here online. You can view them by clicking on the slideshow within this story.
Thanks so much for making the contest a success. And Happy Thanksgiving!
Copyright 2018 The Lawrence Journal-World. All rights reserved. This material may not be published, broadcast, rewritten or redistributed. We strive to uphold our values for every story published.