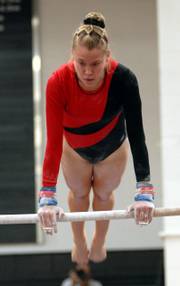 Prairie Village — As the Lawrence High gymnastics team mounted the stage at Shawnee Mission East's gymnasium, Abby Jones and Kara Kellison held the trophy while Mallory West placed gold medals around each of their necks.
LHS earned the hardware by winning its third consecutive state gymnastics title Saturday with a score of 110.3 points.
"This is what we've been working for all season," West said. "Everyone should feel like they're queens of the world."
No one shone more regally than Jones, who swept the vault, bars, beam and floor to achieve a career-high and state-title record in the all-around with a 38.4.
"She did an awesome job today," LHS and Free State coach Kathy Johnson said. "She's very, very talented."
Jones, who has won the all-around at every gymnastics competition this year, tabulated her results between events and knew she was on record-setting pace.
"I was going for that," Jones said.
Jones, however, looked to be in jeopardy of losing those individual honors during her last event. She missed the landing and nearly hit her head on the apparatus during her first vault attempt. The senior then slowed her run on the second attempt to nail her round-off and flip of the board for a 9.5.
"I knew I could do it," Jones said.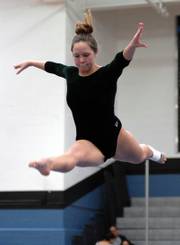 West, who won the state all-around the last two years, finished sixth overall and second in bars and beam. That placement is impressive, considering she participated in all four events at a meet for the first time since undergoing reconstructive surgery on her right ankle in March.
"Today was huge for me, just coming out here and going for all four," West said. "It's a big step."
West said she would ice her ankle Saturday night.
Asked if her ankle hurt, she replied like a gritty champion.
"The goal was to get through today," she said. "I'll worry about the after effects later."
West was not the only local athlete to experience ankle problems. Free State did not qualify its team, but Laura Devlin competed as an individual.
Despite spraining her ankle Thursday, she finished fifth on bars.
"I tried my hardest, but it hurt really bad to do floor and vault," Devlin said. "Bars are where it's at."
Perry-Lecompton's Jennifer Pogge placed fourth on vault but had a mishap in Devlin's best event. Pogge, who competes for Free State during the season, scored a 36.5 despite slipping after her dismount on the bars.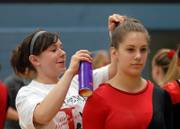 "Jennifer did great," Johnson said. "She fell on bars. She still got third all-around."
Jones set her sights on a record-breaking all-around. Because she does not plan to participate in gymnastics collegiately, she entered her last career meet with tremendous focus.
"I just really wanted to end on a good note," Jones said "If I didn't do good, I would've been so sad about it."
Saturday's meet completed a dominant season for Jones and the LHS team, which also won its first Sunflower League title this year.
"I'm just tickled for these girls because they've worked very hard to do it three years in a row," Johnson said. "I couldn't be prouder."
Copyright 2018 The Lawrence Journal-World. All rights reserved. This material may not be published, broadcast, rewritten or redistributed. We strive to uphold our values for every story published.