In the dim basement of Kansas University's Learned Hall stands the dust-covered carcass of what was once a technological gem.
"It's the first financially successful, mass-produced computer in the world," Earl Schweppe said, pointing to the old machine that he believes was the first mainframe computer on KU's campus.
The university called on Schweppe, KU professor emeritus and founder of KU's computer science program, to haul off the IBM 650 after resigning itself to the fact that there's simply no room for the relic.
Schweppe on Friday began the process of dismantling the computer and salvaging what parts he could.
"This is an archaeological dig," he said.
Schweppe said there's no way to be sure, but he believes the machine is the IBM 650 that the university first purchased more than a half century ago.
In an effort spearheaded by professor G. Baley Price and then-Chancellor Franklin Murphy, KU in the mid-1950s purchased the computer. It was housed in Strong Hall, in a room painted "Florentine orange" to brighten up the dark gray equipment. Price, KU distinguished professor emeritus of mathematics, included the machine's arrival in a 1976 book on the history of KU's math department. Schweppe said that, though he wasn't at KU at the time, the computer would have had broad uses, including for statistical calculations and math problems.
"It hasn't done anything for 40 years at least," Schweppe said Friday. "It would be impossible to make it work."
Schweppe, who has a vast collection of computers and parts, won't keep all of the computer. But he'll salvage what he can, he said.
The machine is a reminder of how quickly technology advances.
"Things change every 18 months," said Aaron Blanchard, director of laboratories for KU's electrical engineering and computer science department. "What you have is old at that point. You can just imagine over 50 years the amount of stuff that gathers up."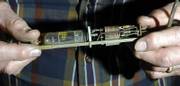 Blanchard said KU sought Schweppe's help because it simply doesn't have the space for the old machine, which stands in the corner of a passageway.
"It wasn't doing its job down here collecting dust," Blanchard said. "If there's some place that this needs to be it's with Earl at this point."
Schweppe pointed to the rusty column where lights once flashed - an attractive feature for early users of the computer. And he picked up one of the many vacuum tubes, used before transistors.
He removed a coat of dust on the tube. He plans to clean some tubes up and mount them on some type of base to give to honor students at graduation.
"I thought it would be an interesting token of the past," Schweppe said.
Copyright 2018 The Lawrence Journal-World. All rights reserved. This material may not be published, broadcast, rewritten or redistributed. We strive to uphold our values for every story published.