It's only a big piece of paper covered in tempera paint.
But an arts and crafts project made by a group of Lawrence preschoolers gave comfort in recent months to hundreds of U.S. soldiers stationed in Baghdad. A class of 4- and 5-year-olds at Children's Learning Center, 205 N. Mich., made an American flag with rows of their own red handprints for stripes and a picture of themselves saluting the flag pasted in the middle of the field of stars.
"We made it with our hands and stars," said 4-year-old Nyasha McVay, one of about 20 class members who contributed to the project.
They mailed it to Camp Slayer in Baghdad, where class member Olivia Beam's father, Jeff, was stationed with the Kansas Army National Guard providing security on the base. He hung it in a picture window in the barracks.
"It gives everybody a little sense of home," said Jeff Beam, a sergeant first class. "It shortens the distance between Baghdad and Lawrence."
When Beam came home earlier this month for a visit, he brought back a surprise for the school. He had roughly 200 members of his unit - the 2nd Battalion, 137th Infantry - sign their names on the flag. Some drew smiling faces or stars, and others wrote messages such as "Thanks for everything," "America is cool" and "Go KU."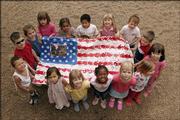 The school has been displaying the flag in recent days for families to see when they come to pick up their children.
"They writed on it," Olivia Beam said.
Asked why she thought the soldiers did that, she said, "'cause they needed to."
Teacher Shelly Jaskiewicz said the idea for the flag came from a book. Along with the flag, families from the school sent canned foods, toiletries and other art projects.
Jaskiewicz and fellow teacher Gloria Riley didn't go into details with the kids about what's happening in Iraq, but they told them that Olivia's father and other people were far from their families.
"I think they got out of it supporting the soldiers - and excitement that Olivia's dad was coming back," Jaskiewicz said.
Around the time the package arrived, one of the division's soldiers, 29-year-old Jessie Davila of Greensburg, was killed by an improvised explosive device.
But Jeff Beam said that lately things have been quiet on the base. He is back in town until Sunday, when he has to leave for Iraq again until the fall.
He said the flag hit home with his fellow soldiers because it came from young children and because it was a simple show of support.
"There's still a lot of support for the soldiers over there," he said. "Whether the war is real popular or not, that's not for us to decide."
Copyright 2018 The Lawrence Journal-World. All rights reserved. This material may not be published, broadcast, rewritten or redistributed. We strive to uphold our values for every story published.