Tyrel Reed knows what you're thinking.
He's not oblivious to it - nor does he try to dodge it or run away from it.
One look at him and everyone watching this weekend's Jayhawk Invitational thinks the same way. A small-town, shaggy-haired kid playing with tenacious intensity, a deadly shot, and the ability to be the floor general from the point-guard position.
Reed is not only one of the most highly coveted recruits to come out of the state of Kansas since Wayne Simien.
He is also Kirk Hinrich Jr.
"People compare me to Kirk Hinrich just because of my looks, my style of play a little bit," Reed said. "It's a good comparison, I think."
People still wonder if he can play - if all the hype surrounding Reed has been just that.
Local recruiting analyst Eric Bossi - who has watched more than 50 of Reed's games over the past two years - just doesn't understand it.
"There may be some guys that shoot a little bit better, there may be some guys that are more athletic, there may be some guys handle it better," Bossi said, "but there's not many guys that combine the complete package like him."
His skills might be questioned, but they're not going unnoticed by scouting agencies. He is currently in USA Today's top 40 and has also made the top 100 in scout.com's ranking of the 2007 class.
Bossi said that in many ways, Reed could bring to the court much of what Hinrich did. Though not as athletic as the former Kansas guard, Bossi said Reed plays more controlled at his age than Hinrich did.
"He's one of those guys that the first couple of times you watch him, you don't realize how good he is," Bossi said. "Then when you watch him, he's constantly setting up guys for open shots, he knocks down open looks. The more he plays, the more you see the other team expecting it."
Bossi believes by the time he graduates, Reed will have solidified a spot in the top 50 nationally as one of the 10 best point guards in the country.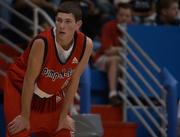 His current list of schools includes Kansas, North Carolina, Stanford, Wake Forest, Georgia Tech and others.
"A lot of people want to say he's not that good," Bossi said. "People don't get offers like that for no reasons at all."
Reed himself hasn't gotten caught up in all the hype. That's because he can't.
The junior does not visit any message boards, choosing instead to control only what he can.
"You've just got to keep getting better - that's all that matters," Reed said. "It's not what other people say."
There are many who don't know about Reed yet, and he loves that.
"It's nice being the underdog," Reed said. "Being from a small school, a small state - no one really knows who you are. You've got to prove yourself every time you play."
So far, the 6-foot-3 guard seems to have done that for himself. In the process, he has also put his small hometown of Burlington on the Division I coaching map.
During his team's undefeated regular season, Reed received visits from numerous college coaches, including three from North Carolina's Roy Williams.
Following Jayhawk basketball all his life, Reed admitted that it wasn't unnatural when the former Kansas coach watched him play - especially because his dad, Stacy, has worked as a coach at the Jayhawk summer basketball camps for 17 straight years.
"It's comfortable. I've grown up knowing him," Reed said of Williams. "It's just fun. He's such a big-name coach. He's a great coach, and I feel comfortable playing around him."
Kansas coach Bill Self and most recently Kansas State coach Bob Huggins have also visited with Reed about his future.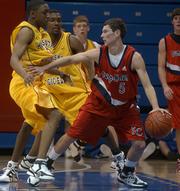 "It's just nice to see the in-state colleges coming after a kid from their state," Reed said. "Sometimes they go out and try to find different players from other states, but being an in-state guy is a good thing."
Another appealing aspect for coaches is that Reed is not just first in his basketball class - he's first in his academic class as well.
Boasting a 4.0 grade-point average, Reed said his parents had helped him to value his work in school.
"Growing up in a family of two teachers, it's always been a priority around our household to get good grades," Reed said. "It's always been pretty normal. Just like basketball, you've got to do your best on the court and your best in school."
He's not Kirk Hinrich - even if Tyrel does look like him, act like him, and even play like him.
"Tyrel and I love Kirk Hinrich, but Tyrel's his own player," Stacy said. "I know he appreciates people giving him some accolades that way, but Kirk Hinrich is Kirk Hinrich. Tyrel just aspires to try to get to that - to try to be that kind of player that can help his team win."
He's getting there. With only two high school losses in his last three seasons, Reed has made a name for himself and is also beginning to gain additional notice at AAU events.
"I think he's proven more and more as he goes out and plays in these tournaments," Bossi said, "that he can play with anybody in country."
He hopes to narrow his schools down by June. Most likely that list will include Kansas.
And what Jayhawk fan would turn down the possibility of another scrappy, shaggy-haired, small-town guard?
"I think they liked Hinrich when he was here," Reed said. "If someone plays like him, I'm sure they'd support him."
Copyright 2018 The Lawrence Journal-World. All rights reserved. This material may not be published, broadcast, rewritten or redistributed. We strive to uphold our values for every story published.