To David Shulenburger, the provost and executive vice chancellor's post at Kansas University is like a suit you put on and never take off.
"It's with you 24 hours a day," he said recently. "Whether you take a big briefcase home or whether you just take those hundreds of problems that you're working on and mull them around through sleepless nights, you always take it with you."
In one week, following Sunday's commencement ceremony, Shulenburger will drop the garb he's worn for more than a decade.
And thus begins a new era at KU.
For years, with the oversight of Chancellor Robert Hemenway, Shulenburger has held the reins at KU. He is the chief operating and chief academic officer of the university.
Hemenway said he tried to convince Shulenburger to stay.
"We've had a good partnership," Hemenway said. "I have great respect for David Shulenburger. He's intelligent and he cares. He has the highest integrity."
Shulenburger has managed during times of dwindling state support, when thin wallets dampened morale. He's shepherded in a historic tuition plan that will double tuition bills for students but also allow KU to bring in new faculty, technology and resources.
He's been a leader and a target of criticism. Some consider him to be the embodiment of KU's spirit, a man of the utmost integrity. Others question his decisions and believe him to be unresponsive.
It hasn't been an easy job, but it has had its rewards.
"We made a lot of progress," Shulenburger said, reflecting on his tenure. "I felt a part of that, and I felt a lot of help along the way."
A look back
A North Carolina native, Shulenburger came to KU in 1974 as an assistant professor of business.
Photo Gallery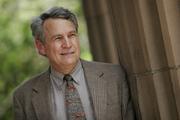 KU Provost David Shulenburger
Ken Mackenzie, distinguished professor of business, recalled Shulenburger in the early years. Mackenzie's impression, he said, was that Shulenburger was interested in administration.
"He was intelligent, very ambitious," Mackenzie said.
Shulenburger moved into administration in the business school before becoming associate vice chancellor for academic affairs in 1988. In 1993, he moved into the vice chancellor for academic affairs seat, then took the provost's position in 1996.
Shulenburger said he never sought out administrative positions, but they've certainly been a part of his career.
"It was just something that happened," he said.
Richard Givens, a chemistry professor who worked in the provost's office from 1995 to 2002, said in the early 1990s, morale was low, KU's research was lagging and administration was slow to respond to academic needs.
He credits Shulenburger and others for ushering change by, among other things, overhauling the research administration, instituting faculty advising, and improving academic advising, admissions and facilities operations.
Successes
But many view Shulenburger's greatest accomplishment to be the tuition enhancement plan. Launched in 2002, the initiative aimed to double tuition in five years.
Base resident undergraduate tuition was $2,333 in 2001-02. The following year, it increased about 25 percent to $2,921. With tuition this year at $4,824, KU plans to take its latest proposal to the Board of Regents this month.
"Tuition enhancement has transformed this campus," said Joane Nagel, distinguished professor and interim associate dean for social sciences. "It's the most dramatic change I've seen."
Before the plan, KU had struggled with declining aid, and hands were tied to make improvements. The new funds led to several changes: new faculty and staff positions; faculty, staff and teaching assistant salary increases; and new technology.
But the start had its problems.
Around the same time as the start of the tuition plan, university leaders announced state budget cuts would force several major cutbacks.
KU closed the public portion of the Museum of Anthropology, cut a section of the Kansas Geological Survey and trimmed other areas.
Those close to the cuts voiced shock and heartache at the time. Shulenburger's response in 2002 was that more cuts could be on the way: "As difficult as these reductions are, they are consistent with recent warnings from the governor that we prepare for midyear reductions."
Years later, with tuition continuing to climb, Shulenburger sees the plan, along with the ability to get student approval of the process, as one of the greatest successes of recent years.
But some wish the money would flow their way.
"Some of the humanities feel that they've been left out of some of the new money that's been made available through tuition enhancement," said Richard De George, distinguished professor of philosophy. "Over the years, most departments have suffered some attrition. All are below their strength."
Challenges
KU continues to struggle with some issues - many related to funding.
Though faculty salaries have increased, they remain about 10 percent below the average for the Association of American Universities that KU compares itself to, universities such as Iowa, Illinois, Minnesota and Wisconsin.
"It's always difficult recruiting and retaining faculty when you've got that salary disparity," Shulenburger said. "We need state support for it."
Aged classroom buildings also need help. Private donors are reluctant to give for classroom space, Shulenburger said, because they view it as state responsibility. Meanwhile, buildings such as Wescoe Hall need to be more livable, he said. And KU has done what it can to modernize Malott Hall, but it too needs help.
"It's very hard to teach modern science and to put students in relevant lab experiences in a building that is now 52 years old," he said.
Stress
Shulenburger keeps a calm public face, and it's only behind closed doors that he vents his frustrations.
"I've only seen Dave really angry just a couple of times," said Don Steeples, distinguished professor of geophysics and vice provost for scholarly support. "Usually it involves something where someone has really done something that reflects poorly on the university or on the profession of higher education."
Few people show up at Shulenburger's door just to say "hello" or "good job," Steeples said, adding that the reality is they bring problems or wish lists for things that require either money or time.
"Saying 'no' is difficult," Steeples said. "He's very graceful at saying 'no.'"
Shulenburger's Southern roots have stayed with him, his colleagues said. They toss out descriptives like "homespun humor," a "Gary Cooper thing" and "Southern drawl."
He's also known for his frugality and nonstop efforts to support the university. He's been known to tear down posters and fliers that litter the campus when posted where they're not supposed to be.
An energy conservation push began a few years ago. Staff were reminded to turn off lights and computers, and the heat in buildings was lowered during school breaks.
One staff member in the provost's office distributed gloves for staff to wear as they worked over the chilly break. Workers joked about "Dave's line of winter wear." Hand-made posters were drawn up with Shulenburger and the caption: "Shut off the damn lights." They still hang in the provost's office.
Look away
Shulenburger said he'd applied for other jobs over the years, including president's posts at other universities.
"From time to time, I've looked at other jobs," he said, "but this has been home."
Lindy Eakin, KU vice provost for administration and finance, said the only two times he ever took rumors seriously were when there were presidential searches at the University of North Carolina and the University of Illinois.
UNC searched for a new chancellor before hiring James Moeser in 2000, and Illinois named Richard Herman as chancellor last spring.
Eakin said he doesn't know whether Shulenburger applied for the posts, but they seemed like desirable locations given that Shulenburger is from North Carolina and his alma mater is the University of Illinois.
His next step will be a stint in Washington, D.C., as vice president for academic affairs at the National Association of State Universities and Land-Grant Colleges.
The job will be less intense than his current post.
"What most people don't realize is that the provost here is like a presidency in a lot of places," Eakin said. "I think it's taken a toll on him. ... After a while, it just wears at you. I think he enjoys this, but it's just relentless."
A look at Shulenburger's time and achievements at Kansas University
1974 - Shulenburger arrives at KU as assistant professor of business during the Chancellor Archie Dykes era.
1975 - Student headcount on Lawrence and Edwards campuses: 21,738.
1980 - Dykes leaves and Gene Budig takes the top seat.
1985 - Student headcount on Lawrence and Edwards campuses: 24,774.
1988 - Shulenburger named associate vice chancellor for academic affairs.
1993 - Shulenburger named vice chancellor for academic affairs.
1993 - KU announces it will prohibit consensual romantic and sexual relationships between faculty and students after Aug. 20. Policy also discourages supervisor-employee relationships.
1994 - Budig leaves and Del Shankel serves as interim chancellor.
1995 - Robert Hemenway takes over top seat.
1995 - KU GTAs unionize.
1995 - Student headcount on Lawrence and Edwards Campuses: 25,036.
1996 - Shulenburger, then 50, named provost, KU's first since 1962. His starting salary for the post: $130,000.
2002 - Tuition enhancement program launched. Plan will double tuition in five years.
2002 - As tuition increases, KU makes budget cuts, including closure of public portion of The Museum of Anthropology, and cuts to the Kansas Geological Survey.
March 2002 - Students demonstrate, from Wescoe Beach to the Provost's Office, maintaining administrators ignored their concerns about tuition increases. About 40 students pack Shulenburger's office lobby to protest.
2005 - Student headcount on Lawrence and Edwards campuses: 26,934.
September 2005 - Shulenburger, who earns $216,520 as provost and executive vice chancellor, announces his resignation, effective in June 2006. His plans at the time are to serve as a faculty member in the School of Business.
January 2006 - Shulenburger announces he'll take a post at the National Association of State Universities and Land-Grant Colleges in Washington, D.C.
February 2006 - KU picks Richard Lariviere, liberal arts dean of the University of Texas, for the provost's seat. Lariviere will make $278,000.
Copyright 2018 The Lawrence Journal-World. All rights reserved. This material may not be published, broadcast, rewritten or redistributed. We strive to uphold our values for every story published.